IPL EXP I/O Series
An Easy and Secure Way to Expand
Your AV Control System
The Extron IPL EXP I/O Series of control system expansion interfaces are a convenient way to put extra control ports and functionality just where you need them in your system. These expansion interfaces pair exclusively with our IPCP Pro xi Series of control processors, which are securely configured with Global Configurator Professional or programmed with Global Scripter®. They feature the convenience of PoE and can be controlled, monitored, and accessed over your network. All these compact control expansion solutions are housed in durable 1U quarter rack enclosures and offer a broad variety of port types as well a mounting options.

Feature Highlights
Works with IPCP Pro xi Series control processors
All expansion interfaces are secure platform devices and are fully compatible with Extron IPCP Pro xi Series control processors
Broad variety of port types
From IR/serial ports to relays and digital I/O ports, these expansion interfaces seamlessly expand the functionality of your AV control system
Secure by Design
Supports secure industry standard communications protocols — All control system expansion interfaces use industry standard communication protocols, including DHCP, DNS, HTTP, HTTPS, ICMP (ping), IEEE 802.1X, NTP, SFTP, SNMP, SSH, TCP/IP, UDP/IP.
Compact footprint
All models in this series are housed in compact, 1U quarter rack enclosures with ZipClip™ 200 mounting capability
PoE Powered
802.3af Power over Ethernet allows these Expansion I/O Interfaces to receive power and communication over a single Ethernet cable, eliminating the need for a local power supply.
IPL EXP S2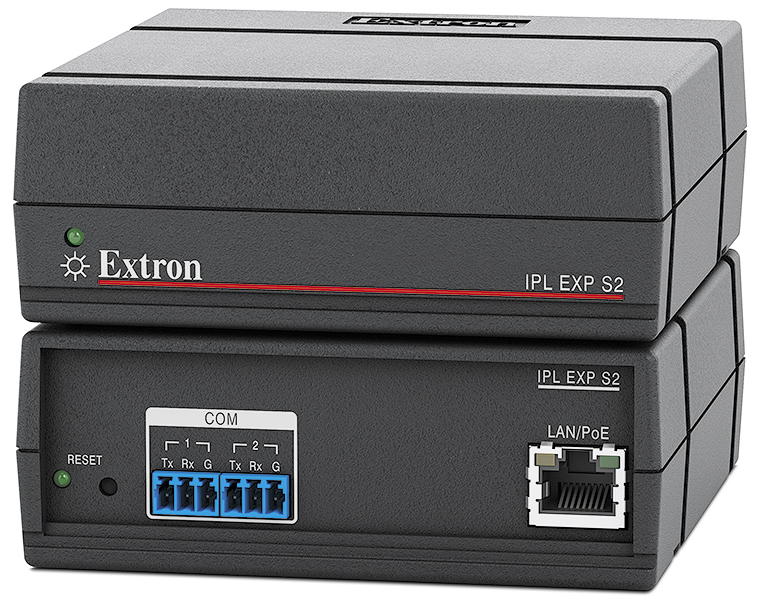 LED indicator for power

Reset button and LED Indicator

Two bidirectional RS-232 serial ports

Compact, high-impact plastic enclosure compatible with the ZipClip 200

Ethernet port for network control and management

Power over Ethernet for power and control over a single cable
IPL EXP S5
LED indicator for power

Reset button and LED Indicator

Five bidirectional RS-232 serial ports

Compact, high-impact plastic enclosure compatible with the ZipClip 200

Ethernet port for network control and management

Power over Ethernet for power and control over a single cable
IPL EXP 200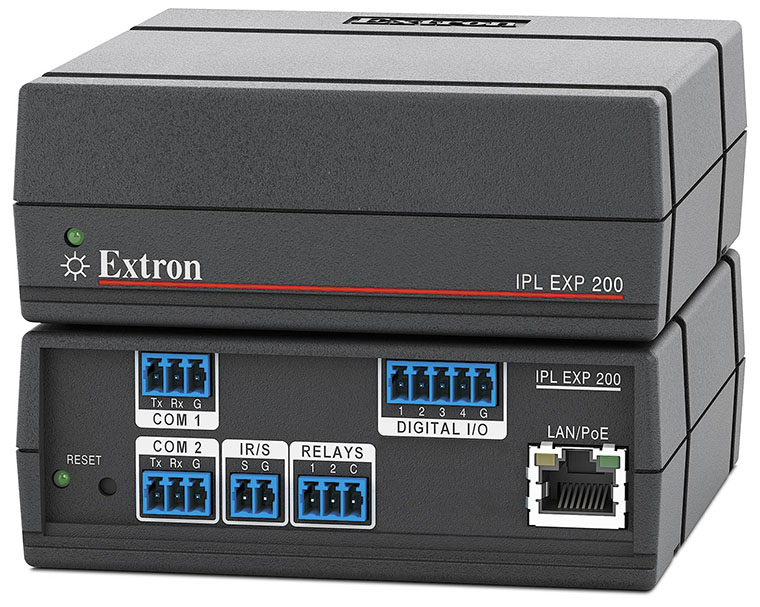 LED indicator for power

Reset button and LED Indicator

Two bidirectional RS-232 serial ports for control of devices such as displays and matrix switchers

One IR/Serial software selectable port for control of source devices such as media players

Two relays for controlling room functions

Four Digital I/O Ports for interfacing with other systems in the room

Compact, high-impact plastic enclosure compatible with the ZipClip 200

Ethernet port for network control and management

Power over Ethernet for power and control over a single cable
IPL EXP RIO8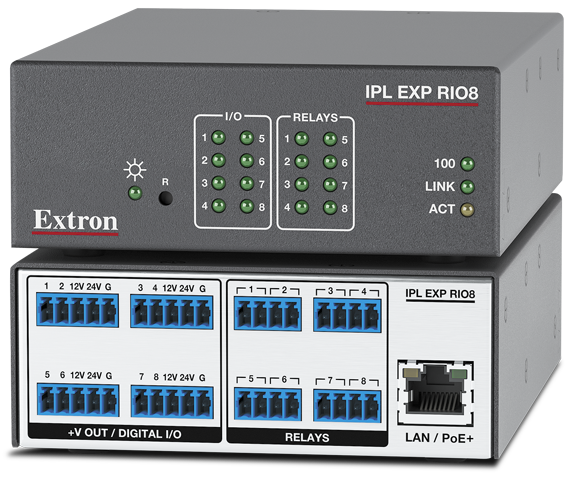 Reset button and LED Indicator

Eight digital I/O ports for interfacing with other systems in the room

Four 12V DC & Four 24V DC ports for powering, controlling, and monitoring sensors and indicators

Eight relays for controlling room functions

Ethernet port for network control and management

PoE+ for power and control over a single cable

LED indicators to assist in monitoring and troubleshooting of control ports and networks