Extron Releases Standalone IP Intercom Modules and Upgraded HelpDesk Software
Public relations contact:
Joe da Silva, Vice President of Marketing
Extron
E-mail: pr@extron.com
Anaheim, California (June 19, 2007)
- Extron Electronics is pleased to introduce the
IPI 200 Series IP Stand-Alone Intercom Modules
. The new standalone modules provide two-way, half-duplex voice communications between classrooms and a centralized help desk over an existing IP network. Extron's free IP Intercom HelpDesk Software, which is used to set up, manage, and monitor IP Intercom Systems, has been upgraded as well. This new help desk solution provides call forwarding for busy help desks and supports IP Intercom systems that use both the IPI 200 Stand-Alone Modules and the current IPI 100 Series Intercom modules that work in conjunction with MLC 226 IP MediaLink Controllers.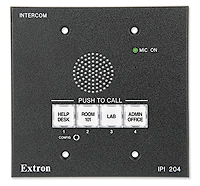 IPI 200 Series intercom
Click here to download high
resolution image
"The IPI 200 Series intercoms can be incorporated into any networked setting, regardless of the type of AV control equipment in use," says Lee Dodson, Vice President of Marketing for Extron Electronics. "Now, we can provide our IP Intercom modules and HelpDesk software to all classrooms, whether they are equipped with MediaLink Controllers or not."
Other features of the IPI 200 Series include one or four backlit, configurable Push to Talk buttons, an integrated microphone, and a speaker. Line level audio output is provided for mixing into a local sound system in each room. The HelpDesk Software's call forwarding capability supports multiple help desks, and its flexible paging options allow the help desk operator to page a single room or a group of rooms simultaneously. Also, intercom calls and pages can be logged and date/time-stamped on the help desk computer. Activity logs can be accessed and archived for record keeping and tracking purposes. For pricing and availability, please contact your Extron Customer Support Representative at 714.491.1500 or toll-free at 800.633.9876 (inside USA and Canada only).
Visit the press area of our Web site at www.extron.com/press for more information.