Extron Now Shipping IPCP Pro 250 High Performance Control Processor
Public relations contact:
Joe da Silva, Vice President of Marketing
Extron
E-mail: pr@extron.com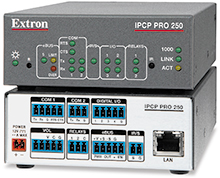 Anaheim, California (October 30, 2014) - Extron Electronics is pleased to announce the immediate availability of the IPCP Pro 250 IP Link Pro Control Processor. The Extron IPCP Pro 250 is a versatile, high-performance control processor designed for centralized AV control in small to medium-size applications. As part of the new IP Link Pro Series, the IPCP Pro 250 is engineered to be faster and more secure in almost every way. It features advanced security standards and Gigabit Ethernet, which ensures compatibility with multiple TouchLink Pro touchpanels using today's network infrastructure. It also supports Extron LinkLicense which enables the use of third party devices as primary control interfaces. The IPCP Pro 250 is an ideal choice for controlling multiple devices and signal types within an AV system.
"Since the launch of Extron Pro Series control products earlier this year, customers are discovering just how powerful configurable control can be," says Casey Hall, Vice President of Sales and Marketing for Extron. "When combined with Global Configurator Professional and LinkLicense, the IPCP Pro 250 as well as all IP Link Pro control processors can expand AV system size and functionality to entire new levels."
The IPCP Pro 250 is configured using Extron Global Configurator Plus or Global Configurator Professional software. This control processor will be compatible with GlobalViewer Enterprise 2.2 software for complete, centralized AV resource monitoring, management, and control over a computer network.
To watch a product introduction video, please visit www.extron.com/iplinkprovideo
For more information on IP Link Pro Control Processors, please visit: www.extron.com/iplinkpropr