Extron Introduces iPad Apps for TouchLink™ and MediaLink®
Public relations contact:
Joe da Silva, Vice President of Marketing
Extron
E-mail: pr@extron.com
Anaheim, California (June 15, 2011) - Extron Electronics is pleased to introduce TouchLink for iPad and MediaLink for iPad. These Apple iPad apps provide users with a convenient way to control their AV system for rooms that have a TouchLink Touchpanel or an Ethernet-enabled MediaLink controller. TouchLink for iPad works with any TouchLink Touchpanel. MediaLink for iPad works with MLC 104 IP Plus and MLC 226 IP MediaLink controllers. The connection manager feature allows presenters to select which rooms they want to control, while button tracking allows each app to stay in sync with its touchpanel or controller. With either app, presenters can now wirelessly control their AV system using a Wi-Fi network, allowing them freedom to move throughout the room.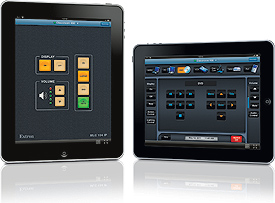 Click here to download high resolution image.
"Our new iPad apps duplicate all the simplicity and functionality of TouchLink Touchpanels and Ethernet-enabled MediaLink controllers with the convenience of wireless control," says Casey Hall, Vice President of Sales and Marketing for Extron. "TouchLink for iPad and MediaLink for iPad give users the flexibility to control their AV system while they move around their room and engage their audience."
TouchLink for iPad and MediaLink for iPad will be available for download from the Apple iTunes App Store.