Extron Technologies Win Multiple Awards at Integrate 2016 in Australia
Public relations contact:
Joe da Silva, Vice President of Marketing
Extron
E-mail: pr@extron.com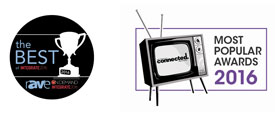 Anaheim, California (September 22, 2016) - Extron is delighted to announce that it was recognized with four awards from two separate organizations during the 2016 Integrate Expo in Australia. Extron received top honors in three categories by readers of Connected Home Magazine: Most Popular Audio Embedder, Most Popular Video Processor, and Most Popular Video Scaler. In addition, the editors at rAVe Pubs awarded the new Quantum Ultra Videowall Processor a Best of Integrate 2016 Award as the Best Video Wall Product.
"We design and develop all of our products in-house, and are dedicated to quality and innovation. This enables us to engineer and evolve new technologies and products that set the industry benchmark for performance and reliability," says Casey Hall, Vice President of Sales and Marketing for Extron. "We are honored that the AV Pros around the world declare Extron products, support, training, and customization are what they need to meet the demands of today and to prepare for the future."
The Quantum Ultra modular 4K videowall processor features a 400 Gbps high-speed video bus that incorporates Extron HyperLane technology, which delivers real-time performance unattainable by other videowall processors. Dozens of full motion video and computer sources can be displayed with no loss in temporal resolution.
Visit our Web site at www.extron.com for more information.