Extron VoiceLift Now Supports Emergency Video Monitoring with Instant Alert
Public relations contact:
Joe da Silva, Director of Product Marketing
Extron
E-mail: pr@extron.com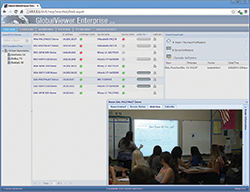 Anaheim, California (June 30, 2014) - The Instant Alert feature of Extron VoiceLift Microphone allows educators to discreetly signal for assistance in the event of an emergency. Now, in addition to sending an email or text to officials, Instant Alert can also provide access to an IP video camera installed in the classroom. By clicking the link provided by email or in GloblaViewer Enterprise, administrators can see and hear what is happening in the room, allowing them to deploy the most appropriate resources. If the school is running GlobalViewer Campus Communication Suite, the help desk operator may either make an announcement to the room that assistance is on the way, or initiate an intercom session for two way communication with the instructor.
"Instant Alert's ability to request assistance in an emergency provides and extra measure of peace-of-mind for educators," says Anthony Cortes, Director of Sales and Marketing, K-12 Classroom Systems for Extron. "Now, with emergency video monitoring capabilities, officials can quickly determine the best course of action in response to an alert."
Instant Alert with emergency video monitoring is just one more example of why Extron is the leader in classroom AV technology and management. We have created a tightly integrated ecosystem of products and software that offer benefits to students, teachers and administrators alike. Our PoleVault Digital and VoiceLift Systems provide reliable distribution and ease of use for classroom AV, and evenly distribute the teacher's voice throughout the room. The GlobalViewer family of software products increase efficiency and effectiveness through network management of AV systems, bells, paging, and intercom.
Visit our Web site at www.extronclassroom.com for more information.