Extron Wins Four Product Awards At InfoComm 2011
Public relations contact:
Joe da Silva, Vice President of Marketing
Extron
E-mail: pr@extron.com
Anaheim, California (July 13, 2011) - Extron is proud to announce that four Extron products won awards at the InfoComm 2011 show in Orlando, Florida. The PowerCage™ 1600 won the Systems Contractor News Product Award for Most Innovative Video Distribution or Switching Product and the VN-Matrix® 300 won the Rental & Staging New Product Award for Best Video Broadcast or Video Streaming Product. Presented at a special ceremony on Tuesday, June 14th, Systems Contractor News and Rental & Staging, who reported a record number of entries this year, gave Extron its awards and will be featuring the winning products in more detail in upcoming issues of their publications.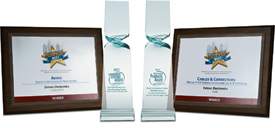 On Wednesday, June 15th, Commercial Integrator announced the winners of its inaugural BEST - Best Electronics Systems Technologies awards. Extron was awarded Best AV Component or Processor for the FOXBOX HDMI and awarded Best Specialty AV Cable, Interconnect, or IR Extender for the LockIt™ HDMI Cable Lacing Bracket. These products will be featured in the July/August issue of Commercial Integrator.
The Extron PowerCage 1600 is a rack-mountable, 16-slot enclosure that supports a wide range of Extron fiber optic and twisted pair AV transmitter and receiver boards. Providing an efficient way to power and mount multiple transmitters and receivers, the PowerCage 1600 simplifies integration for large, rack-mounted systems. The hot-swappable, modular design allows for replacing or upgrading boards or power supplies in the field at any time, without having to power down the system.
The Extron VN-Matrix 300 streams SDI, HD-SDI, and 3G-SDI video and embedded audio over IP networks. It produces excellent image quality at highly efficient bit rates with low latency. The VN-Matrix 300 utilizes Extron's PURE3 compression technology, which exceeds many of the performance characteristics of existing compression formats, delivering visually lossless imagery with low latency and providing exceptionally robust protection against network errors, making it ideal for quality-critical applications.
The Extron FOXBOX HDMI is a fiber optic transmitter and receiver set for long haul transmission of HDCP-compliant HDMI video, audio, and RS-232 control signals over fiber optic cabling. Engineered for reliability and high resolution image performance, it uses Extron-exclusive all digital technology. The FOXBOX HDMI can be used for simple point-to-point applications, or in combination with FOX Series matrix switchers, users can create custom, scalable HDCP-compliant systems up to 1000x1000 and beyond.
The Extron LockIt™ is a cable lacing bracket for securing HDMI cables to a host product's input and output connectors. LockIt reduces the stress on the HDMI connectors and prevents intermittent or complete signal loss due to a loose cable connection.