The Extron MGP 462 and VTG 300 Win Awards at InfoComm05
Public relations contact:
Joe da Silva, Vice President of Marketing
Extron
E-mail: pr@extron.com
Anaheim, California (June 23, 2005)
- Extron Electronics is pleased to announce that the
MGP 462 Dual Window Multi-Graphic Processor
and the
VTG 300 Handheld Battery Powered Video and Audio Test Generator
won industry awards during the recent InfoComm05 Show in Las Vegas. The MGP 462 earned the Systems Contractor News InfoComm Installation Award in the category of Best Video Signal Processing or Distribution product for commercial installation, and the VTG 300 received the Best General AV Product Award presented by Rental & Staging Systems magazine and the International Communications Industries Association, Inc.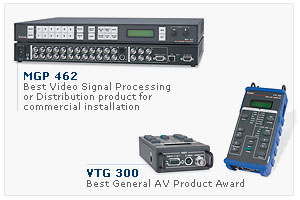 Click to download high resolution image
The MGP 462 and VTG 300 include multiple features that are popular with professional AV systems designers and integrators. The Extron MGP 462 Dual Window Multi-Graphic Processor combines picture-in-picture graphics processing and high performance scaling, enabling the simultaneous display of two video or computer-video sources for compatibility with HDTV or high resolution computer-video displays. The MGP 462 is ideal for use in videoconferencing, command and control centers, conference rooms, boardrooms, distance learning, and event staging systems. The Extron VTG 300 is a handheld, battery-operated video and audio test generator featuring high resolution computer-video, plasma, HDTV, and 16:9 rates, as well as standard definition NTSC or PAL video rates for RGB, component video, S-video, and composite video. As a versatile, broadcast quality reference tool, the VTG 300 can be used for projector set-up, performance evaluation, alignment, convergence, calibration, synchronization, troubleshooting, and accurate video and audio signal reproduction in professional AV applications.