Extron Introduces New Four Input 4K/60 4:4:4 Seamless Scaling Switcher with DTP2 Inputs and Outputs
Public relations contact:
Joe da Silva, Vice President of Marketing
Extron
E-mail: pr@extron.com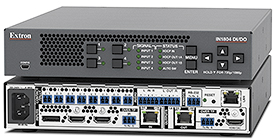 Anaheim, California (October 7, 2019) - Extron is pleased to announce the IN1804 DI/DO, the newest member of the IN1804 family of compact, four-input scalers that provide state-of-the-art video scaling, switching, and integration features. It supports HDMI 2.0 data rates up to 18 Gbps and is HDCP 2.2 compliant. To ensure best-in-class image quality, the switcher incorporates the Extron-exclusive Vector 4K scaling engine with 4:4:4 chroma sampling and 30-bit internal video processing. A DTP2 input and a DTP2 output facilitate easy extension of AV and control signals up to 330 feet (100 meters) per endpoint over a shielded CATx cable. Delivering the convenience of fast and reliable automatic switching, along with advanced capabilities such as audio embedding/de-embedding, seamless transition effects, logo keying, and twisted pair extension, the IN1804 DI/DO scaler provides the performance and flexibility needed to support the most demanding presentation environments.
"The IN1804 Series sets the bar for 4K/60 4:4:4 switching and scaling with uncompromised image quality and advanced features," says Casey Hall, Vice President of Sales and Marketing for Extron. "The new IN1804 DI/DO switcher is the answer to designers' demand for a compact 4K/60 scaler that delivers the line's same high performance while providing both DTP2 input and output signal extension in a single enclosure, enabling ultimate system flexibility."
The IN1804 DI/DO includes two DTP2 twisted pair connections. The DTP2 input can receive signals from remote DTP and DTP2 transmitters mounted at a conference table, lectern or wall. The DTP2 twisted pair output can send signals to a DTP or DTP2 receiver mounted behind a flat panel display, above a ceiling mounted projector, or in other remote locations. DTP transmitters and receivers are available in compact, low-profile enclosures, plus wallplate and floor box form factors to suit a range of professional installations.
In addition to supporting DTP endpoints, the IN1804 DI/DO can be integrated into an XTP II CrossPoint matrix switcher system. This is ideal for facility-wide AV system applications with a centralized AV signal distribution infrastructure, as well as several presentation spaces with local AV switching and processing. This scaler in a room can connect into the matrix switcher in a central equipment rack or closet to receive shared AV resources, while also distributing content to local and remote display devices. The IN1804 DI/DO switcher provides an economical and effective means for scaling, switching, and extending signals to and from HDMI-equipped devices.
For more information on the IN1804 DI/DO, click here.