Extron Introduces New Compact Four Input Scaler
Public relations contact:
Joe da Silva, Vice President of Marketing
Extron
E-mail: pr@extron.com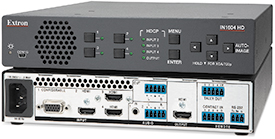 Anaheim, California (June 5, 2014) - Extron Electronics is pleased to announce the Extron IN1604 HD, an HDCP-compliant four input scaler that features three HDMI inputs, a universal analog video input, and an HDMI output. It is ideal for installation beneath conference tables and in lecterns to provide localized switching support for sources such as presenter devices. The IN1604 HD provides the convenience of fast and reliable switching, along with a high performance scaling engine for HDMI and analog video sources. Also included are a host of audio processing features and many versatile options for control. The IN1604 HD joins the recently announced IN1604 DTP, which features an Extron DTP twisted pair output.
"The IN1604 HD lends itself particularly well to conference room applications, huddle spaces, and collaboration systems, with a compact enclosure that can be mounted inconspicuously under a conference room table or in a lectern to support multiple guest laptops or tablets," says Casey Hall, Vice President of Sales and Marketing for Extron. "The scaler delivers high performance and a compelling feature set with the core capabilities of the Extron professional grade presentation switchers, but in a smaller form factor."
The IN1604 HD delivers essential audio integration capabilities that include HDMI audio embedding and de-embedding, flexible audio switching with two individually assignable analog audio inputs, switching transitions, gain and attenuation adjustments for each analog input, output volume control, and selectable audio muting. The IN1604 HD also features convenient options for remote control and operation, including front panel controls and on-screen menus, USB, RS-232, and contact closure with tally output for easy integration into a variety of environments.
To watch a product introduction video, please visit: www.extron.com/in1604hdvideo
For more information on the IN1604 HD, please visit: www.extron.com/in1604hdpr