Extron VoiceLift® Systems Support Instant Alert for Classroom Emergency Notification
Public relations contact:
Joe da Silva, Director of Product Marketing
Extron
E-mail: pr@extron.com
Anaheim, California (February 7, 2011) - Extron Electronics announces that its VoiceLift® voice amplification system, specifically developed for K-12 classrooms, includes an instant alert option. The instant alert feature on the VoiceLift pendant microphone enables the teacher to request assistance with the push of a button. The feature triggers an integrated relay that may be used with a variety of notification systems. In classrooms equipped with an Extron MediaLink® Controller, the instant alert option can be configured to send an email to school officials and safety authorities. Instant alert can also interface with third party alarm, security camera, mass notification, and other systems.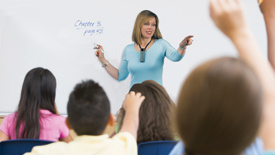 "Our award-winning, easy to use VoiceLift system allows the teacher to be heard clearly throughout the room, resulting in significant gains in student achievement," says Anthony Cortes, Director of Sales and Marketing, K-12 Classroom Systems for Extron. "The instant alert option extends the functionality of the VoiceLift System and provides an extra level of security in the classroom."
The VoiceLift Microphone System contains all the components necessary to evenly distribute the teacher's voice throughout the classroom, including pendant microphone, IR receiver, switcher/amplifier, speakers and cables. Studies show that sound field systems, such as the VoiceLift system, allow the teacher to be heard clearly, resulting in significant gains in student achievement.