and
Delivering Enhanced Control to Modern Workspaces
Extron and HP
Delivering Enhanced Control to Modern Workspaces
Extron is working with HP to create scalable meeting solutions for modern workspaces. We are integrating room automation, audio, and signal extension capabilities with the HP Elite Slice G2, Microsoft Teams Rooms®, and Zoom Rooms™ solutions. Our partnership with HP brings Extron audiovisual control capabilities to the HP Elite Slice G2 providing complete AV and conferencing control across the enterprise. With this new solution, a simple tap on the HP Center of Room Control screen can control call volume for the room as well as send commands that trigger automation events for display control, shades, lighting, and more.
As part of this conferencing, control, and automation ecosystem, occupancy sensors can also be added to automate system power to turn on displays when participants enter a room and turn them off when the room is empty.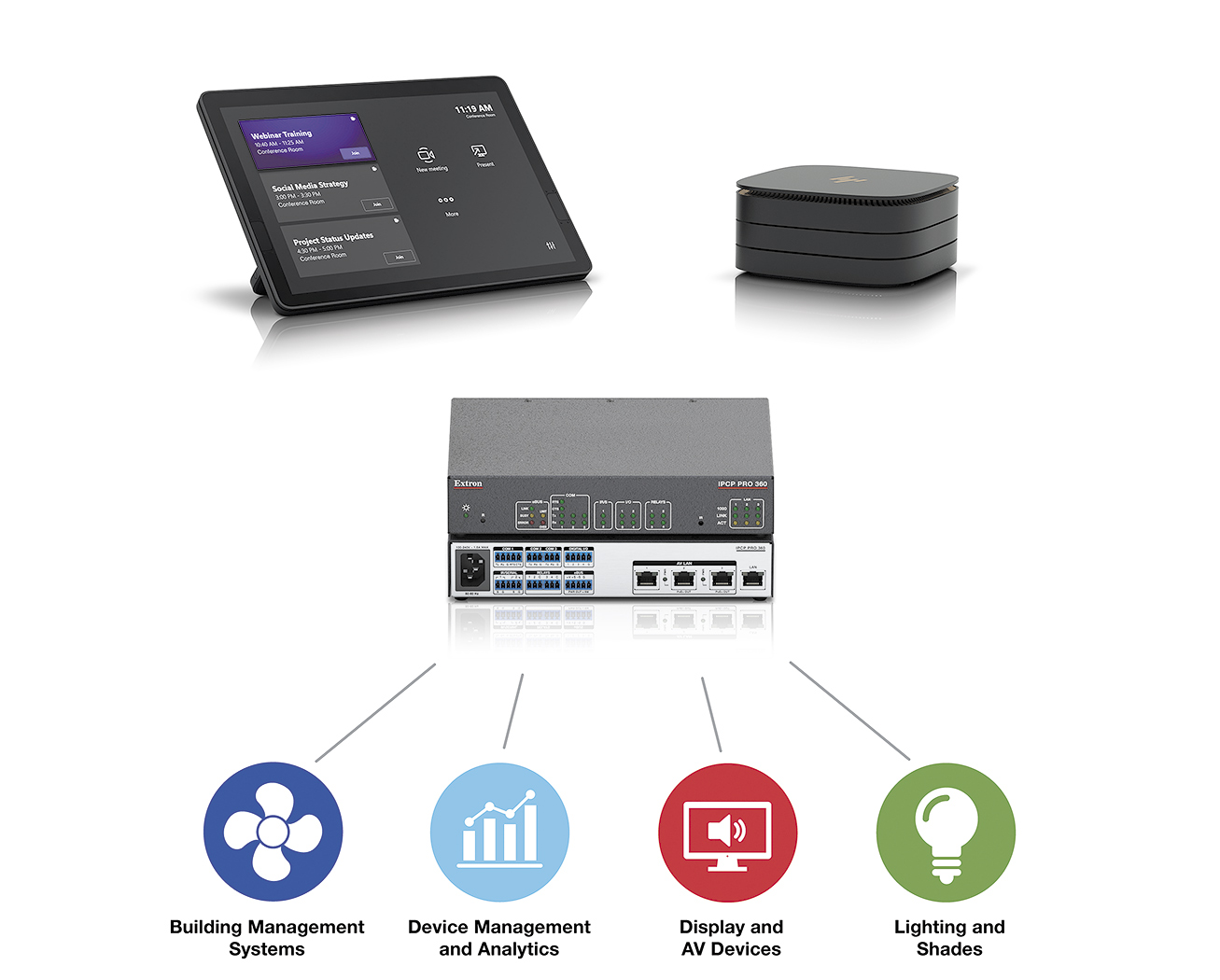 Key Features
Scalable Zoom Rooms and Microsoft Teams Rooms Solutions – Enable rooms of all sizes with capabilities to switch, distribute, extend, stream, enhance audio, and control AV signals.
Room Automation – Integrate automatic system and display controls utilizing Extron Control Systems and sensors.
Simplified Room Control – Provide all room and video conferencing controls including one touch meetings with a single HP CoRC interface.
BYOD Options – Provides flexibility to use conferencing platform of choice while leveraging all room resources.
Extron and Zoom Rooms – Native Room Controls
Delivering an Integrated Conferencing Experience
The Extron Control for Zoom Rooms – Native Room Controls provides an Extron Global Configurator Professional Ethernet driver and a Zoom Rooms JSON - JavaScript Object Notation template file which simplifies and enhances deployment. The native Zoom experience is now available for Pro Series control with all Zoom Rooms native controllers. Using a Pro Series Control Processor provides access to Extron's extensive Driver Library and additional control options such as bi-directional RS-232, advanced Ethernet, and more.
Key Features
Zoom Rooms Control interface customized by a JSON file
Add one-way Room Control buttons to Zoom Rooms Native interface
Works with any Zoom Rooms supported Controller