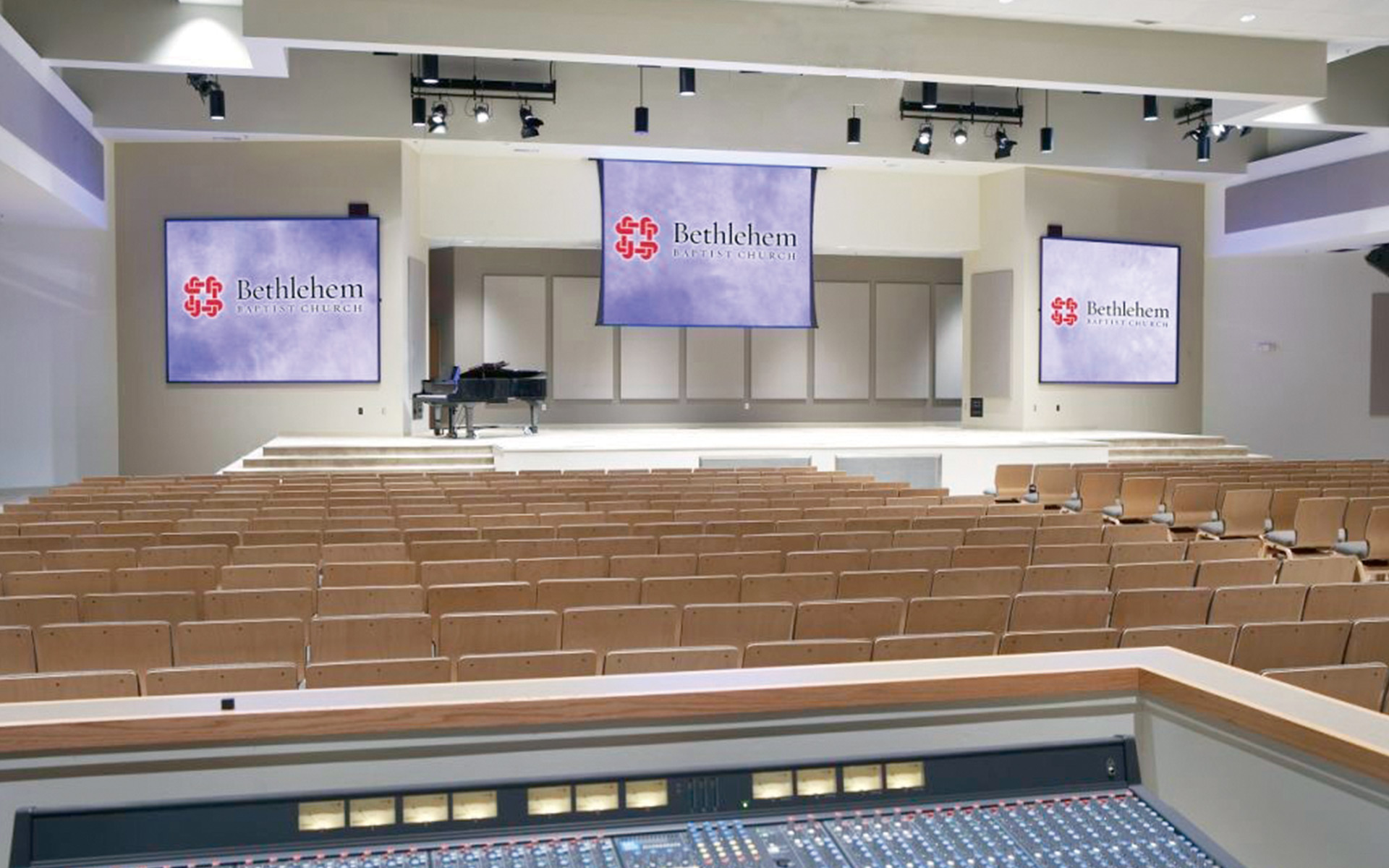 Real-time Streaming Between Worship Centers
Overview
Contemporary worship centers deploy large format projection systems, large scale audio systems, and real time video production equipment to enhance the worship experience. As congregations grow, streaming technology is called on to connect the experience, particularly the reach of the charismatic teaching pastor to satellite worship centers. Streaming technology is called upon to connect the worship centers in real time and extend sermons to the second worship center over public networks.
Room Needs Assessment
Staffing
Audio visual staff manage the lighting, audio, projections, and video production systems in real time during worship services.
Source Inputs
Produced, HD-SDI and SDI video with synchronized audio.
Geography
Satellite congregations may be located 20 - 50 miles from the primary worship center.
Network
IP networks connect the worship centers. Bandwidth supports delivery of high definition, standard definition video, and multiple audio channels.
Displays Far End
Large format displays are used at the far end. An immersive, theatrical experience is desired, which will help foster a spiritual connection between the teaching pastor and the remote audience. Any artifacts or degradation of the imagery will detract from the experience. Low delay supporting interaction between sites allows the primary and satellite centers to worship together. All networks drop packets and experience errors. The audio video delivery must maintain reliable delivery and quality. Audio and video presented on the far end must maintain lip-sync for the video and if multiple video streams are sent, they should be genlocked and framelocked.
Control System
Video streaming equipment must be configured to operate within defined bandwidth limits.
System Design Solution
Video Inputs
Broadcast cameras collect serial digital high definition and standard definition video. Real time production equipment delivers video with effects and graphic overlays along with embedded audio.
Streaming Video Encoders
Extron VN-Matrix® 300 codecs employing the PURE3® codec interface the program feed supplied to the large, center projection display and the smaller support displays that flank it. Video is encoded with low, 35 ms delay and the encoder preserves the 10-bit, 4:2:2 color information contained in the serial digital video signal, critical to maintaining the image quality that will be delivered to the far locations. The VN-Matrix 300 codecs are interfaced to a local area network to deliver the audio/video streams. A variety of compression and bit rate controls exist to allow delivery of the best picture given the available network bandwidth.
Network
Professional, local area network switches with Layer 3 switching and routing capabilities and 100/1000BaseT network connections are interfaced to the VN-Matrix codecs and VNM Recorder units. Encoders and decoders operate behind firewalls securing them from the threats to an external network connecting the facilities. The network connection provides 150 Mbps bandwidth to support the high definition video bit rate, which may be between 50 to 90 Mbps, and a block of four audio channels, which requires 16 Mbps. SD video may require 15 to 20 Mbps, and a block of four audio channels of embedded audio use 8 Mbps.
Streaming Video Decoders
Extron VN-Matrix 300 codecs decode the audio and video signals rapidly with a 35 ms decode process. The low delay supports natural interaction if conversations between worship centers are required. An error concealment system in the PURE3 codec preserves a reliable, stable picture even when bit errors, jitter, or lost packets are experienced at the decode point. Audio and video delivery is synchronized and multiple decoders are genlocked by connecting an identical serial digital video reference to each unit. Visually lossless image compression at the VN-Matrix 300 codecs and reliable decoding provided by error concealment enable a very high quality image will be presented on very large screens.
Display System Far End
A large format projector supporting 1920x1080 resolution with HD-SDI input serves as the primary display in the worship center. The large display is flanked by smaller projectors presenting standard definition video. The projectors provide brightness supporting large format projection, including high brightness and SDI or HD-SDI serial digital video inputs.
System Diagram