Extron Introduces Over 40 New DVI, HDMI, and DisplayPort Products
Public relations contact:
Joe da Silva, Vice President of Marketing
Extron
E-mail: pr@extron.com
Anaheim, California (June 17, 2009)- Extron Electronics is pleased to introduce over 40 new digital video products for integrating DVI, HDMI, and DisplayPort. This comprehensive product lineup includes modular and fixed I/O DVI and HDMI matrix switchers in sizes up to 16x16, new DVI switchers with up to eight inputs, high performance DVI and HDMI cables in lengths up to 200 feet (60 meters), and a new line of DisplayPort cables and adapters designed for use in commercial AV systems. This new lineup demonstrates the continuing commitment by Extron to the development of digital video technologies and solutions for the AV presentation market.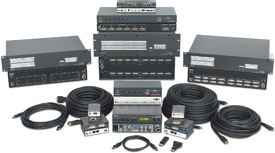 "Extron has a long history of developing digital products, going back nearly a decade with the release of some of the industry's first DVI distribution and extension products," says Lee Dodson, Vice President of Marketing for Extron. "We are pleased to offer what has now become a complete, end-to-end product line that includes digital video interfaces, cables, switchers, and distribution products that deliver the exceptional performance, operational reliability, and integration-friendly features for which Extron is known."
The DCX 1600 modular digital matrix switcher provides HDCP-compliant DVI and HDMI switching and is compatible with signal resolutions up to 1920x1200 and 1080p/60. The compact, 3U enclosure accepts any combination of DVI or HDMI matrix boards. Available 4-port and 8-port input and output boards can be used separately or together to provide 16 I/O size combinations for full system customization from 4x4 to 16x16.
Extron is also offering two families of fixed-configuration matrix switchers. The DXP DVI Pro and DXP HDMI Series are HDCP compliant and available in four I/O sizes from 4x4 to 8x8. Both matrix switcher series as well as the DCX 1600 offer several Extron-exclusive features designed to optimize performance and reliability, including EDID Minder® for consistent, reliable switching between displays and connected sources, and automatic input equalization and automatic output reclocking to help ensure the integrity of the digital signal on both the input and output paths.
The Extron HDMI M-M Pro, DVID SL Pro, and DVID DL Pro are three new high performance cable series engineered to support long distance demands for HDMI, single link DVI, and dual link DVI transmissions. They offer precision terminated gold plated contacts and large gauge copper wire construction. These new cable assemblies are pre-tested and quality checked to ensure flawless transmission and reliability. They are available in lengths from 3 feet (90 cm) to 200 feet (60 m). The new family of Extron DisplayPort products are designed to provide and maintain robust, reliable digital connections for DisplayPort enabled devices, and are DisplayPort 1.1a compliant. The Extron DisplayPort M-M cables are available in lengths up to 25 feet (7.6 m) and provide latching connectors to ensure a secure connection. Extron also offers the DP-HDMIF and DP-DVIF adapters for dual-mode DisplayPort-equipped devices that can support HDMI or DVI signals.