Extron Announces Select DTP Transmitters, Signal Processors, and Presentation Switchers are HDBaseT Certified
Public relations contact:
Joe da Silva, Vice President of Marketing
Extron
E-mail: pr@extron.com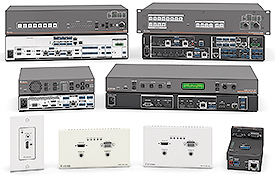 Anaheim, California (June 1, 2015) - Extron Electronics is pleased to announce that select DTP products are now HDBaseT certified. The products include DTP T HWP 4K D, DTP T EU, and DTP T MK wallplate transmitters; DTP T FB floor box transmitters; Annotator 300 annotation processor; DTP CrossPoint 84 scaling presentation matrix switchers; IN1604 DTP four input scaler; and IN1608 HDBT scaling presentation switchers. They send video with embedded audio, and bidirectional RS-232 and IR signals up to 230 feet (70 meters) or 330 feet (100 meters) over a shielded CATx cable. The DTP wallplate transmitters and DTP CrossPoint 84 support 4K resolutions. Certified models have been independently tested and verified to meet the performance requirements set by the HDBaseT™ Alliance. The range of certified Extron products allows AV installers to select the AV components that are best suited for system requirements, with the confidence that those units meet HDBaseT standards and will work with other certified products. Extron has added HDBaseT compatibility to a growing number of DTP products, including DTP transmitters, distribution amplifiers, scalers, switchers, and matrix switchers. These products offer high performance, reliability, and flexibility for a range of AV applications that take advantage of the HDBaseT technology.
"More and more displays are becoming available with built-in HDBaseT inputs, creating opportunities for integrators to simplify installations," says Casey Hall, Vice President of Sales and Marketing for Extron. "Extron is now shipping an extensive line of HDBaseT-compatible products and these recently certified models give integrators additional options in selecting the core AV components that provide high performance and efficient AV system designs."
The DTP Systems product family is the industry's most comprehensive integration platform for small to medium-sized AV systems. This family includes numerous different extender models in a wide variety of form factors and video formats, plus a broad offering of distribution amplifiers, switchers, and matrix switchers with essential AV signal processing and control features. DTP Systems allow complete flexibility in designing systems precisely to application and budget requirements.
For more information on HDBaseT-compatible products from Extron, please visit: www.extron.com/hdbasetpr