HDBaseT Compatibility Simplifies Connectivity
Streamline AV System Designs with Signal Extension over Shielded CATx Twisted Pair Cable
The increasing availability of HDBaseT in AV equipment, particularly projectors and flat‑panel displays, is helping system designers and integrators identify more ways to take advantage of this technology. HDBaseT is a signal extension technology defined by the HDBaseT Alliance for combining and transporting HDMI video and embedded audio, as well as control signals using category‑type twisted pair cable. It provides a flexible means of sending AV signals from various sources to compatible display devices.
Extron Products are Compatible with HDBaseT Devices
Extron offers a range of DTP® System models that deliver an HDBaseT‑compatible output, including DTP twisted pair transmitters available in multiple form factors for furniture, wall, and floor box installation, as well as DTP-enabled distribution amplifiers, scalers, switchers, and matrix switchers. These products are compatible with a variety of video signal formats, including HDMI, DisplayPort, DVI, and analog video. HDBaseT compatible products can send digital video and embedded audio, plus bidirectional RS‑232 and IR signals up to 230 feet (70 meters) or 330 feet (100 meters) over a shielded CATx cable directly to an HDBaseT‑enabled display. This allows even greater flexibility for your AV system designs and integration requirements.
DTP products with HDBaseT compatibility offer high performance, reliability, and flexibility. Compatible DTP models maintain superior image quality over long distances, with select models supporting computer and video signals up to 4K resolution, including 1080p/60 Deep Color. In addition, HDCP compliance and continuous communication of EDID and HDCP ensure direct compatibility as well as optimal signal transmission between the source and the HDBaseT‑enabled display device.
The ability to send multiple signals over standard shielded CATx twisted pair cable across extended distances provides several advantages. Twisted pair offers a cost-effective, readily available, and convenient means to route cabling through existing conduit in walls and within furniture. Extron XTP DTP 24 shielded twisted pair cable is specifically engineered for optimum high resolution video transmission. The cable utilizes an SF/UTP design with four unshielded 24 AWG twisted pair conductors inside an overall braid and foil shield for superior performance and noise immunity. XTP DTP 24 cable is certified to 475 MHz bandwidth at distances up to 330 feet and has been independently tested and verified to meet performance requirements set by the HDBaseT Alliance.
Key Features
Simplified integration with direct HDBaseT compatibility
Twisted pair outputs on a range of DTP System models are switch-selectable for HDBaseT mode
Transmit digital video with embedded audio, plus bidirectional RS-232 and IR control signals up to 230 feet (70 meters) or 330 feet (100 meters) over a shielded CATx cable
Compatible with CATx shielded twisted pair cable
HDBaseT Alliance verified Extron XTP DTP 24 shielded twisted pair cable is strongly recommended for optimal performance
HDCP compliant
Supports EDID and HDCP transmission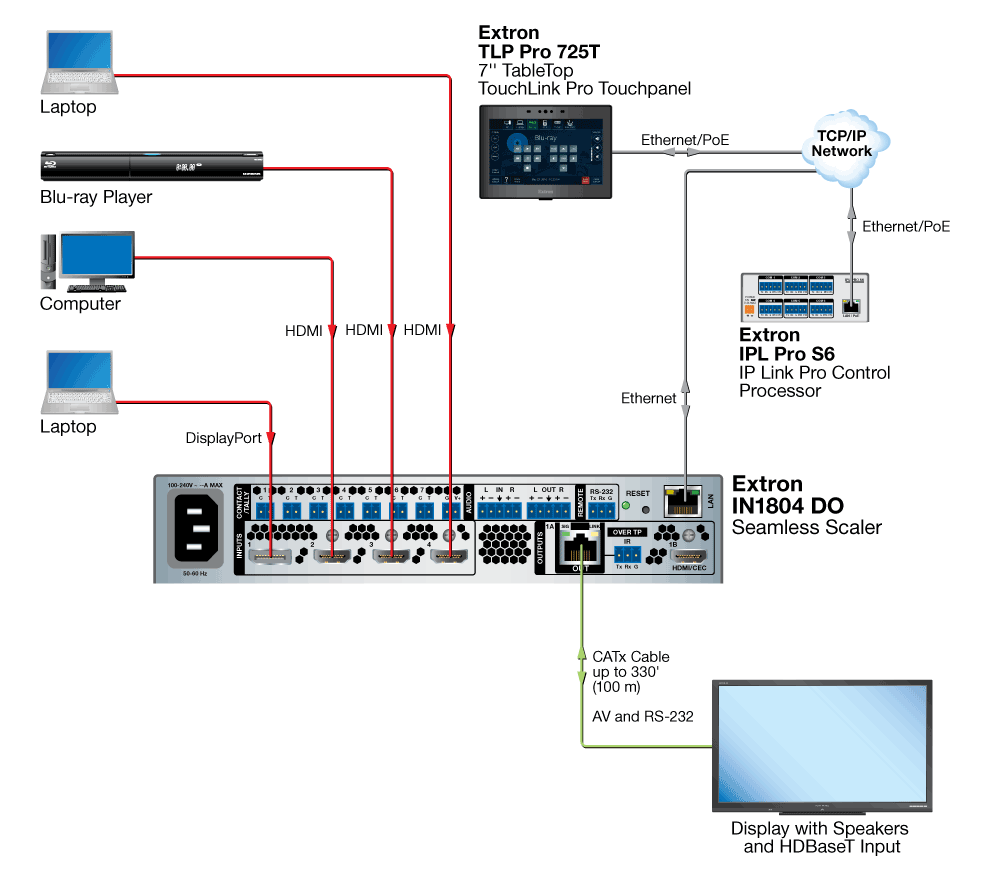 Extron HDBaseT Compatible Products