Extron Announces Promotion of Casey Hall to V. P. of Sales for North America
Public relations contact:
Joe da Silva, Vice President of Marketing
Extron
E-mail: pr@extron.com
Anaheim, California (October 6, 2005)
- Extron Electronics is pleased to announce that Casey Hall, formerly director of national sales, has been promoted to vice president of sales for North America. Casey's new responsibilities include strategic management of Extron's sales programs and initiatives, as well as day-to-day sales operations in the United States and Canada.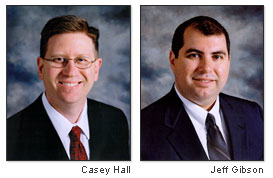 Click
here
to download the high resolution image
"As director of national sales, Casey exhibited the personal dedication and business leadership skills necessary for the position he now fills," said Andrew Edwards, president and CEO of Extron Electronics. "As vice president of sales for North America, Casey will ensure that we continue to provide innovative AV solutions, superior service, and timely technical support." Jeff Gibson will now concentrate his efforts and expertise on Extron's presence in the rapidly expanding international markets as vice president of international sales. "I am delighted that Jeff is now able to leverage his considerable talents solely for our international customers and our presence overseas," Edwards noted. Jeff will oversee the company's growing international sales programs and staff from Extron's worldwide headquarters in Anaheim. In making these announcements Edwards said, "Casey and Jeff have the proven business acumen and technical savvy necessary to keep Extron at the forefront of the global AV marketplace, even as we maintain our traditional commitment to the individual dealer. They share my commitment to provide dealers worldwide with innovative technologies, superior products, and uncompromising customer service."