Extron Introduces HDMI Audio Embedder with Support for 4K
Public relations contact:
Joe da Silva, Vice President of Marketing
Extron
E-mail: pr@extron.com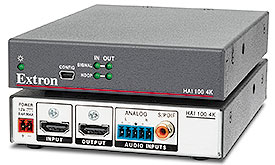 Anaheim, California (January 28, 2016) - Extron Electronics is pleased to introduce the HAI 100 4K, an audio embedder that embeds two-channel analog audio, or two-channel or multi-channel S/PDIF digital audio onto the HDMI output signal. The HAI 100 4K includes an HDMI input, analog stereo audio and S/PDIF audio inputs, as well as an HDMI output. It is HDCP compliant, supports data rates up to 10.2 Gbps, and is compatible with video resolutions up to 4K. The HAI 100 4K includes several integrator-friendly features such as adjustable gain control for the analog audio input, EDID Minder for simplified EDID management between the input source and the display, plus HDMI input cable equalization and comprehensive LED status display. The compact 1" (2.5 cm) high, quarter rack width enclosure size simplifies installation in a variety of applications.
"We are excited to offer the HAI 100 4K, an essential component for many AV applications," says Casey Hall, Vice President of Sales and Marketing for Extron. "Integrators often need to embed audio onto an HDMI signal and, with the migration towards systems that support 4K, this versatile product is an ideal fit."
This versatile audio embedder is ideal for applications requiring audio from a sound system to be embedded with an HDMI video signal, supporting systems that rely on HDMI for signal distribution. Additionally, to compensate for signal loss over long input cables, incoming HDMI signals are equalized up to 50 feet (15 meters) at 4K or 100 feet (30 meters) at 1080p/60 when used with Extron HDMI Pro cables. LEDs on the front panel offer comprehensive, real-time device status monitoring, including HDMI input and output signal presence, and HDCP authentication.
To watch a product introduction video, please visit: www.extron.com/hai1004kvideo
For more information on the HAI 100 4K, please visit: www.extron.com/hai1004kpr