Extron GlobalViewer Enterprise 2.7 makes AV System Management Easier than Ever
Public relations contact:
Joe da Silva, Vice President of Marketing
Extron
E-mail: pr@extron.com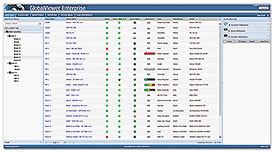 Anaheim, California (December 4, 2017) - Extron Electronics is pleased to announce the immediate availability of GlobalViewer Enterprise - GVE version 2.7. This powerful software simplifies AV system resource management with intuitive control for hundreds of common AV tasks. Whether you're working with 5 or 5000 rooms, GVE provides a powerful, flexible way to manage, monitor, and control nearly any device over a standard network. Support teams will appreciate the agility and flexibility GVE provides to access usage data, create reports, and control systems from any computer on the network. Among the many features that help you manage AV equipment across the enterprise more efficiently, this new version adds support for the Extron RoomAware Outlook Add-in to automate conference room functions for scheduled meetings. Also, GVE 2.7 includes compatibility with additional facility calendars such as Microsoft® Exchange 2013, Exchange 2016, and Office 365™. Additional features include support for the HC 404 Meeting Space Collaboration System, an enhanced help desk for accessing detailed room data and control, and more robust monitoring and reporting capabilities.
"GlobalViewer Enterprise is used in thousands of rooms worldwide, helping technicians automate tasks, and providing help desk personnel with powerful AV monitoring and reporting tools," says Casey Hall, Vice President of Worldwide Sales and Marketing for Extron. "This new version of GVE adds enhanced analytics, support for the RoomAware Outlook Add-in to automate conference room functions, as well as a host of other new features that streamline resource management and room automation."
The help desk in GVE 2.7 displays all devices in every AV system, and enables users to easily filter equipment down to the room level or device type. GVE also helps support teams and decision makers gain an improved understanding of usage and maintenance patterns through its robust set of standard and custom reporting tools. Improved analytics provide the information teams need to closely analyze inventory, usage and costs, activity patterns, and trends across the organization. Users can also effectively manage and control AV installations on-the-go using the iGVE app on Apple iPad®, iPhone®, and iPod touch® devices.
Extron RoomAware Technology is a suite of time-saving features that anticipates users needs and intelligently delivers room automation and control across the enterprise. RoomAware enables smart connections between Extron devices and services to save valuable time by preparing the room for the participant prior to their arrival.
For more information on GlobalViewer Enterprise, click here.