New Extron GlobalViewer Enterprise 2.2 Supports Pro Series Control Products
Public relations contact:
Joe da Silva, Vice President of Marketing
Extron
E-mail: pr@extron.com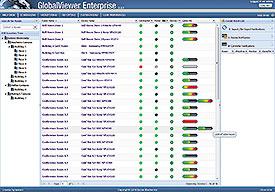 Anaheim, California (May 4, 2015) - Extron Electronics is pleased to announce the immediate availability of GlobalViewer Enterprise - GVE, version 2.2. This server-based AV resource management software simplifies behind-the-scenes AV tasks by providing enhanced help desk functionality, enterprise-wide system status, and time-stamped AV system data collection for reporting. Among the many important updates, this latest GVE version offers full support for Extron Pro Series control products, powerful data logging and reporting capabilities using a custom reporting API, and the ability to import legacy as well as Pro and Plus Series configurations, simultaneously.
"GVE makes it possible for help desk personnel to monitor and control thousands of AV systems, worldwide," says Casey Hall, Vice President of Sales and Marketing for Extron. "Now, by taking advantage of the advanced capabilities of our Pro Series control systems, this award-winning software is more powerful than ever."
This latest version of GVE also adds Device Control pages and Input Tracking capabilities for Pro Series products, plus compatibility with a new version of iGVE, Extron's mobile resource management App. iGVE will soon be available in the Apple App Store and will permit mobile management of AV systems using iPad, iPhone, and iPod Touch. Since GVE is configuration-based and doesn't require custom programming skills, it is a quick and easy process to import, manage, and monitor any AV control system that is connected to the network.
For more information on GlobalViewer Enterprise, please visit: www.extron.com/gve22pr