Extron Welcomes Two New Consultant Application Engineers
Public relations contact:
Joe da Silva, Vice President of Marketing
Extron
E-mail: pr@extron.com
Anaheim, California (September 15, 2009)
- - Extron Electronics is pleased to introduce Greg Moquin and John Fish, two new Consultant Application Engineers serving the Mid-Atlantic region. As Consultant Application Engineers, they will support professional AV consultants and design firms through on-site product, application, and technology training.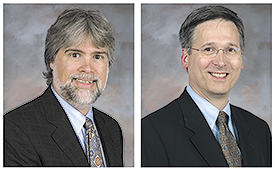 "Greg and John offer a combined six decades of professional AV experience and demonstrate a profound understanding of the specialized needs of AV consultants," Says Mitch Kenison, Extron National Consultant Liaison Manager. "I am very pleased to have these gentlemen on our team, and am proud that they will represent Extron within the growing consultant community."
Greg comes to Extron with over 30 years of experience as a senior technology consultant and project manager, AV integrator and control system programmer for a variety of AV projects and applications. Prior to working in the AV industry, he was responsible for staging hundreds of performing arts events in the Washington DC region.
John is also an industry veteran, with over 30 years of experience in both system integration and consulting for regional and national firms. His extensive professional AV experience includes system design, engineering, commissioning, documentation, and system performance testing. In addition, John offers signficant expertise in audio system design and is skilled with electro-acoustic predictions and EASE software.