Extron Introduces Global Configurator Professional - Advanced Configuration Software for AV Control Systems
Public relations contact:
Joe da Silva, Vice President of Marketing
Extron
E-mail: pr@extron.com
Anaheim, California (June 15, 2011) - Extron Electronics is pleased to introduce Global Configurator Professional, Extron's next generation configuration software for larger, more sophisticated TouchLink™-based configurable control systems. GC Pro provides an integrated environment for defining advanced AV control system functionality from an easy-to-use graphical user interface. Powerful features, such as controller groups and conditional logic with local variables, provide greater flexibility for more elaborate control system designs. Global Configurator Professional is ideal for any TouchLink-based control system requiring enhanced functionality and advanced configuration features.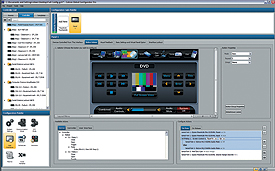 Click here for high resolution image.
"Global Configurator Professional expands the scope of configurable control well beyond its previous capabilities," says Casey Hall, Vice President of Sales and Marketing for Extron. "Advanced features and workflow enhancements enable much greater flexibility when designing larger, more complex AV control systems."
Some of the new features of Global Configurator Professional include: controller groups, which allows users to group up to four control processors together; conditional logic with local variables, which gives the user the ability to set up more advanced monitoring of control conditions; and an enhanced user interface, which permits functions such as cut, paste, and copy to be applied to button actions. Additionally, Global Configurator Pro can create an additional point of control for rooms with an installed TouchLink Touchpanel. This can be established in one of two ways: TouchLink for Web is accessed from any Web browser that supports Microsoft Silverlight, and TouchLink for iPad is an AV control system App designed for the Apple iPad.