Extron Wins Two BEST Product Awards
Public relations contact:
Joe da Silva, Vice President of Marketing
Extron
E-mail: pr@extron.com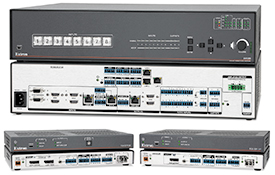 Anaheim, California (June 19, 2014) - Extron Electronics is proud to announce it has won two Commercial Integrator BEST Awards. The Extron FOX II DP won in the Fiber-optic Transport category, and the IN1608 IPCP Series won in the Video Scalers category. The Commercial Integrator BEST Awards program recognizes superlative solutions for an integration business based on innovation, functionality, competitive advantages, and benefits to the integrator and installer.
"We are extremely pleased to have been recognized by Commercial Integrator with these awards that validate our continuing efforts to deliver technologies and features that streamline integration and provide outstanding signal distribution," says Casey Hall, Vice President of Sales and Marketing for Extron. "The FOX II DP represents the highest level of performance for Extron fiber optic products, bringing exciting new features to the FOX Series, while the IN1608 IPCP replaces as many as ten separate components, making it a powerful one box solution for creating a fully integrated AV system."
The FOX II DP extender is engineered for reliability and exceptional high resolution image performance, providing long haul transmission of DisplayPort video, multi-channel audio, plus RS-232 and IR control signals over fiber optic cabling. Features new to the FOX line include support of higher resolutions up to 2560x1600, an audio return channel, and bidirectional IR. These new capabilities are in addition to the many integrator-friendly features found on other FOX Series products such as EDID Minder, Key Minder, real-time status LEDs, and internal color bars test pattern for calibration and setup. The FOX II DP can also be used with FOX Matrix Switchers to create large HDCP-compliant signal distribution systems. Extron FOX Series matrix switchers and extenders can also be configured for use with 4K sources and displays with resolutions up to 4096x2160, allowing easy integration into a wide range of 4K environments.
The IN1608 IPCP adds to Extron DTP Systems with a highly versatile scaling presentation switcher that delivers the technologically advanced capabilities for designing and integrating a complete AV system in one box. It features four HDMI inputs, two universal analog video inputs, and two DTP inputs and provides dual HDMI outputs and one DTP output. The DTP inputs and output work with DTP twisted pair transmitters and receivers to extend HDMI, audio, and bidirectional control signals up to 330 feet (100 meters) over a single shielded CATx cable. The IN1608 IPCP also includes a host of audio switching and processing features. It is available with a built-in Class D audio power amplifier, and an IPCP Pro 350 control processor for complete AV system control.
To watch product introduction videos, please visit www.extron.com/foxiidpvideo and www.extron.com/in1608ipcpvideo
For more information, visit our Web site at www.extron.com/foxiidppr and www.extron.com/in1608ad