Extron Introduces Fiber Optic Transmitter for Simplified Integration of 3G-SDI Sources
Public relations contact:
Joe da Silva, Vice President of Marketing
Extron
E-mail: pr@extron.com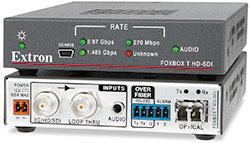 Anaheim, California (December 2, 2014) - Extron Electronics is pleased to introduce the FOXBOX T HD-SDI, a fiber optic transmitter that converts 3G-SDI video to streamline integration of SDI sources with non-SDI displays. The FOXBOX T HD-SDI uses Extron all-digital technology to provide perfect pixel-for-pixel transmission of video, audio, and control to a FOX Series DisplayPort, HDMI, DVI, or VGA receiver, including the FOXBOX SR HDMI scaling receiver. The FOXBOX T HD-SDI is ideal for wider system designs, supporting distance learning applications, auditoriums, houses of worship, and other environments that often include the use of broadcast-type sources such as PTZ cameras and professional or consumer-grade displays.
"Integrators and system designers often find it challenging to interface broadcast‑grade, SDI sources to AV equipment with DisplayPort, HDMI, or VGA inputs," says Casey Hall, Vice President of Sales and Marketing for Extron. "This FOXBOX transmitter solves the challenge by converting signals at the SDI source for easy extension in fiber optic AV applications."
The FOXBOX T HD-SDI provides many features for simplified integration, including input equalization, audio gain and attenuation adjustment, real-time status LEDs, and alarm notification for fiber link loss. For increased system design flexibility, it sends embedded AES audio or stereo analog audio and bidirectional RS-232 control signals along with the video. SD Pro processing deinterlaces 480i and 576i signals for compatibility with HDMI and DVI-equipped displays without the need for additional scalers. This low-profile fiber optic transmitter is available as multimode and singlemode models. The FOXBOX T HD-SDI enables SDI signal conversion and extension in simple point-to-point applications, and can be combined with FOX Matrix Switchers to support installations up to 1000x1000 and larger.
To watch a product introduction video, please visit: www.extron.com/foxboxthdsdivideo
For more information on the FOXBOX T HD-SDI, please visit: www.extron.com/foxboxthdsdipr