Extron Introduces New Fiber Optic Extender for DVI, Audio, and Control Signals
Public relations contact:
Joe da Silva, Vice President of Marketing
Extron
E-mail: pr@extron.com
Anaheim, California (June 19, 2007)
- Extron Electronics is pleased to introduce the
FOX 500 DVI
, a transmitter and receiver set for long haul transmission of DVI, audio, and RS-232 control signals over a single fiber. It uses Extron's exclusive zero compression, all digital technology to deliver perfect pixel-for-pixel transmission of computer-video images up to UXGA (1600x1200) and HDTV 1080p. The FOX 500 DVI is available in 850 nm multimode and 1310 nm singlemode versions.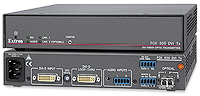 FOX 500 DVI
Click here to download high
resolution image
"As the use of DVI in AV systems continues to increase, integrators are looking to send DVI signals over greater distances," says Lee Dodson, Vice President of Marketing for Extron. "The Extron FOX 500 DVI was designed specifically to meet this need."
A host of integrator-friendly features are included with the FOX 500 DVI, including an EDID emulation mode, buffered input loop-through, RS-232 control from multiple locations, rack-mount capability, and real-time system monitoring. Two models are available, one which supports multimode fiber at 850 nm for medium-range applications up to 150 meters (492 feet) within buildings and facilities, and the other for singlemode as well as multimode fiber at 1310 nm to support very long-range transmissions up to 30 km (18.75 miles). The FOX 500 DVI transmitter and receiver are available separately.
Either device can be paired with the standard FOX 500 transmitter or receiver to provide ultra-long distance transmission and conversion of DVI-D signals to analog RGB and vice versa. The FOX 500 DVI receiver is also compatible with the FOX 500 DA6 Six Output Fiber Optic Transmitter, which enables transmission of analog RGB over up to six fiber links for distribution to multiple DVI-equipped displays. For pricing and availability, contact an Extron Customer Support Representative at 800.633.9876 (inside USA/Canada only).
Visit the press area of our Web site at www.extron.com/press for more information.