Extron Premieres New Fiber Optic SDI to DVI and Analog RGB / Component Video Converter
Public relations contact:
Joe da Silva, Vice President of Marketing
Extron
E-mail: pr@extron.com
Anaheim, California (April 14, 2010) - Extron Electronics is pleased to announce the FOX 3G DVC, which receives fiber optic SDI, HD-SDI, and 3G-SDI serial digital video signals over a single fiber, and converts them to DVI-D and analog RGB or component video. It is compatible with the FOX HD-SDI Fiber Optic Extender, as well as FOX Series distribution amplifiers, switchers, and matrix switchers. The FOX 3G DVC features extraction of embedded AES3 audio, RS-232 serial control, and a fiber optic input loop-through that allows multiple FOX 3G DVC and FOX HD-SDI units to be daisy-chained. It is ideal for applications including television production, medical imaging, military simulation, houses of worship, and live events that require long distance transmission of SDI signals from broadcast-type sources, and interfacing them with professional / consumer-level displays and other products.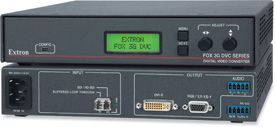 "The FOX 3G DVC solves a challenge integrators often face when deploying broadcast-grade, SDI-equipped source devices: interfacing them with displays that only have DVI or analog video inputs," says Casey Hall, Vice President of Sales and Marketing for Extron. "This product allows them to take advantage of fiber optics for sending SDI signals very long distances, and then use their display of choice, or distribute the signals to a traditional AV system."
The FOX 3G DVC automatically recognizes and converts SDI, HD-SDI, and 3G-SDI signals, and is compliant with SMPTE 259M, 292M, 424M, and ITU digital video standards. The RGB output can be set for RGBHV, RGBS, and RGsB. Bi-level or tri-level sync can be selected when the unit is set for component video output. Several FOX 3G DVC units may be daisy-chained to support applications with displays in multiple locations.
The FOX 3G DVC MM supports multimode fiber at 850 nm, which is typically used within buildings or facilities with moderate-range transmission distances up to 500 m (1,640 feet). The FOX 3G DVC SM supports singlemode as well as multimode fiber at 1310 nm. Singlemode fiber offers long-range transmission capability over extreme distances of up to 30 km (18.75 miles). It is used in very large facilities such as airports and stadiums, and for connecting over very long distances between facilities such as university campuses.