Extron Debuts Fiber Optic Cables, Connectors, and Tools
Public relations contact:
Joe da Silva, Vice President of Marketing
Extron
E-mail: pr@extron.com
Anaheim, California (February 1, 2011)
- Extron Electronics is pleased to announce the addition of pre-terminated and bulk fiber optic cables, cable termination tools, field-installable connectors, and test equipment to complete our line of fiber products. Combined with the existing line of extenders, matrix switchers and distribution amplifiers, these new products comprise the most comprehensive line of fiber optic products in the industry and enable transmission of pixel-perfect video, audio, and control over extreme distances. Bend-insensitive, plenum-rated bulk cable and factory-terminated cable assemblies in various lengths are available in both OM4 multimode and singlemode versions. For bulk cable, the Fiber Optic Termination Kit and Quick LC fiber optic connectors enable fast and reliable termination in the field. To ensure system-wide reliability, use the FPM 101 fiber optic power meter in conjunction with either the FLS 850 Fiber Optic Light Source for multimode cabling or the FLS 1310 Fiber Optic Light Source for singlemode solutions to measure optical power and loss throughout the fiber optic infrastructure. These new accessory items round out and complement the extensive line of fiber optic products from Extron, which includes switchers, matrix switchers, signal processors, extenders, and distribution amplifiers.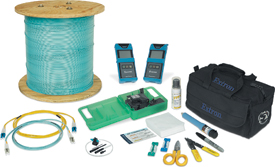 "Integrators have traditionally been required to use an assortment of brands when sourcing fiber optic cabling and termination equipment to complete an installation," says Casey Hall, Vice President of Sales and Marketing for Extron. "With the latest additions to our fiber optics line, they have the convenience of getting the entire range of fiber products from a single manufacturer, from extenders and matrix switchers to fiber cables and termination tools."
Engineered for reliability and exceptional high resolution image performance, fiber optic products from Extron provide long haul transmission of video, audio, and control signals for an AV installation. These new accessory products incorporate many features that specifically address challenges often encountered in AV environments. The Extron bend-insensitive fiber optic cabling, a first in the AV industry, offers the highest available performance in both OM4 multimode and singlemode versions. These duplex, plenum-rated cables enable pixel-perfect transmission of AV signals in any intrabuilding environment and can be ordered pre-terminated in a variety of lengths, or as 2km bulk spools. The Quick LC connectors, termination kit, and test equipment provide further installation convenience while ensuring optimal performance throughout the entire fiber infrastructure.