Extron Announces a Major Expansion to Its Fiber Optic Product Line
Public relations contact:
Joe da Silva, Vice President of Marketing
Extron
E-mail: pr@extron.com
Anaheim, California (June 18, 2008)
- Extron Electronics announces a major expansion to its fiber optic product family for long haul, digital transmission and distribution of AV signals. The FOX 4G Matrix 14400 is a high performance, modular fiber optic matrix switcher, expandable in sizes from 16x16 to 144x144. New for the SMX System MultiMatrix Series are fiber optic 8x8 matrix switcher boards. Extron also introduces three new fiber optic extenders, including the FOXBOX 4G VGA for sending RGB computer-video signals, the FOXBOX 4G DVI for DVI signals, and the FOX 2G AV for sending component video, S-video, or composite video. All three extenders are transmitter and receiver sets that send video, audio, and RS-232 control signals on just a single fiber. Extron fiber optic products feature exclusive zero compression, all digital technology that provides perfect pixel-for-pixel transmission.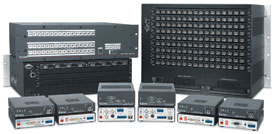 Click here to download high resolution image
"These new products further add to our comprehensive fiber optic lineup that enable complete, end-to-end digital AV signal transmission and routing over fiber optic cable," says Lee Dodson, Vice President of Marketing for Extron. "All of our fiber optic products deliver high performance with perfect pixel-for-pixel accuracy, and provide the same AV-oriented features integrators always expect from Extron."
The FOX 4G Matrix 14400 includes hot-swappable input/output boards and redundant power supplies for field upgradeability and reliability in mission-critical environments. The FOX 4G Matrix 14400 and the SMX FOX Series matrix switcher boards feature 4.25 Gbps digital switching capability and are fully compatible with the FOX Series of fiber optic transmitters and receivers. They accept and route standard definition video, high resolution computer-video, DVI-D, and multi-rate SDI.
The FOX 2G AV, FOXBOX 4G VGA, and FOXBOX 4G DVI transmitter and receiver units all feature compact, low profile enclosures for discreet installation, such as behind a flat-panel display. All three models also support daisy-chaining, so that a single transmitter can support displays at multiple locations. The FOXBOX 4G DVI transmitter or receiver can be paired with the FOXBOX 4G VGA or FOX 500 transmitter or receiver to provide ultra-long distance transmission and conversion of DVI signals to analog RGB and vice versa.