Extron Exclusive Patented Flat Field Speakers
Delivers Uniform Sound Levels to All Listeners

Drop-in ceiling tile speaker designed for suspended ceilings

UL 2043 plenum rated enclosure
FF 120T & FF 220T
Full-Range Flat Field Speakers with Low Profile Enclosure
The Extron FF 120T and FF 220T are full-range sound field speakers for 70 volt/100 volt systems. They feature Extron patented Flat Field® Technology which reduces beaming of mid and high frequencies directly under the speaker, delivering consistent sound levels across the listening area. In addition, the FF 120T and FF 220T offer an extraordinarily wide dispersion of 170 degrees, providing a very wide room coverage pattern for rooms with low ceilings. An Extron exclusive, UL 2043 plenum rated enclosure drops into suspended ceilings, providing quicker installations. The FF 120T is a 1' x 2' drop-in ceiling tile designed for standard US style suspended ceilings. The FF 220T is available in two versions: a 2' x 2' version for US standard ceilings and a 600 mm x 600 mm version for metric ceilings. With a low profile enclosure, these speakers are an excellent choice for ceiling installations with tight above-the-ceiling space issues.
Features

Low Profile Enclosure

Easily fits within restricted height environments

UL 2043 Rated Enclosure

Approved for installation within a plenum airspace

Horn-loaded, Full-range Driver

Provides extended low frequency reproduction

Drop-in Ceiling Tile Speaker

Designed for use in 2' x 2' or 600 mm x 600 mm suspended ceilings

Wide 170° Disperson

Very wide coverage pattern for rooms with low ceilings

White Perforated Grille

Matches most HVAC vents for a visually discreet appearance
Delivers Uniform Sound Levels to All Listeners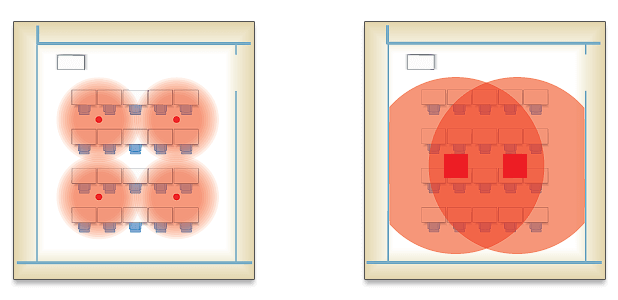 Flat Field ceiling speakers offer an extraordinarily wide dispersion of 170 degrees, which provides a very wide room coverage pattern. This is especially important for rooms with low ceilings. With the combination of Flat Field Technology and wide dispersion, only two speakers are required in a standard classroom, as opposed to four or more traditional ceiling speakers.
This speaker is ideal for use in low ceiling installations for maximum room coverage and optimal voice intelligibility. Along with an extended bass response, Flat Field technology provides excellent voice clarity without compromising music reproduction.
Easy to Install
For easy installation, the Flat Field speakers drop into the space of a standard 2' or 600 mm ceiling tile, and includes a T-bar which can be used with a larger ceiling tile trimmed to fill out the space. It also provides theft deterrence with a neutral white, perforated steel grille that matches the appearance of standard HVAC vents and grid ceilings.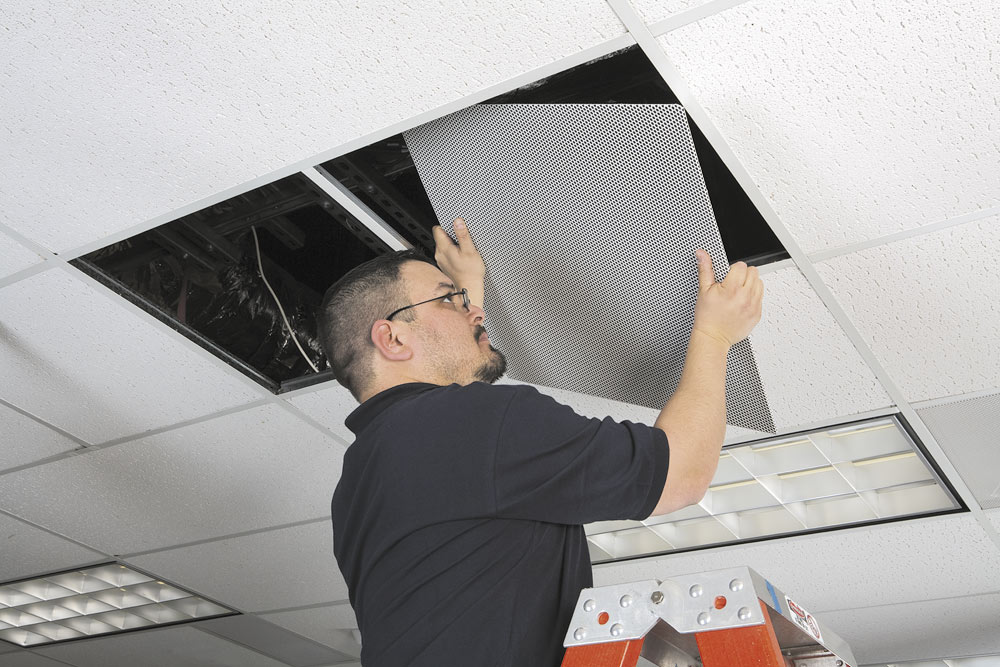 Application Diagram
In this classroom, two Flat Field ceiling tile speakers provide even coverage throughout the room so all students can benefit from superior instructor intelligibility. At the heart of the systems is an IN1808 IPCP Q MA 70 Seamless Presentation Switcher that accepts AV signals from multiple sources, to be output to a display, projector, and the Flat Field speakers via its built-in amplifier.