Extron Opens Product Demonstration and Training Facility in Moscow, Russia
Public relations contact:
Joe da Silva, Vice President of Marketing
Extron
E-mail: pr@extron.com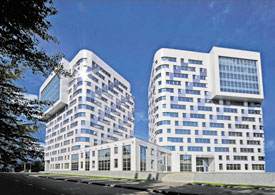 Anaheim, California (September 18, 2013) - Extron Electronics is proud to announce the opening of a product demonstration and training facility in Moscow, Russia to provide convenient access to Extron for customers in that region. The facility includes a state-of-the-art training room fully equipped to showcase and demonstrate the latest in Extron technologies and solutions. It also has a dedicated training manager, meeting space, and workspace to house an expanding support team.
"Our new facility in Moscow shows how committed we are to expanding training and making it easier to reach our customers," says Jérôme Guéras, Vice President of Sales, EMEA. "Customers in Moscow will have the opportunity to participate in training classes in a local facility where they can learn about the newest technologies and see demonstrations of products and applications."
The Moscow office is staffed by Extron S3 Institute experts and features a familiar variety of Extron training choices, including hands-on training using real-world scenarios and courses to pursue various Extron Certifications. The first Extron School of Emerging Technologies at the new facility will be held September 23-24.
Other Extron training facilities are located in China, France, Germany, India, Japan, the Netherlands, Singapore, South Africa, South Korea, United Arab Emirates, and the United Kingdom. North American training facilities are located in Anaheim, California; Raleigh, North Carolina; Dallas, Texas; New York City; and Washington, DC.