Extron Introduces Two Certification Programs for Pro Series Control Systems
Public relations contact:
Joe da Silva, Vice President of Marketing
Extron
E-mail: pr@extron.com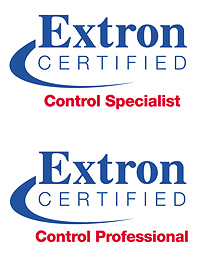 Anaheim, California (June 12, 2014) - Anaheim, California (June 12, 2014) - Extron Electronics is pleased to introduce ECS - Extron Control Specialist and ECP - Extron Control Professional. ECS is designed to prepare individual to successfully deploy and maintain customized AV control systems that are built using Extron Pro Series control products and Extron Global Configurator Plus software. ECP is geared toward advanced users or those with a programming background who wish to take full advantage of the features within Global Configurator Professional software. Both certifications feature instructor-led, hands-on training and will prepare individuals to manage customized Pro Series configurable control systems.
"We are excited to offer these two new certifications and pleased to report that customer response is very strong," says Casey Hall, Vice President of Sales and Marketing for Extron. "Whether you are primarily concerned with smaller-scale configurable control scenarios or larger, more complex system designs, these new control system certifications have you covered."
In the highly competitive AV industry, education, training, and certification are important to the success of both individuals and companies. Like a professional license, certification instills confidence through reliable evidence of a critical set of knowledge and skills. Acquired fluency and expertise in any field saves valuable time and money, and ensures a higher level of customer service and satisfaction.
The Extron Certification program is for AV professionals who wish to advance their knowledge of AV system technology, design, and configuration. The program consists of online and instructor-led training components and allows system integrators, installers, and consultants an opportunity to learn new skills, validate their skills, and gain a better understanding of the latest technologies and solutions.
For more information on Extron Control Specialist, please visit: www.extron.com/ecspr
For more information on Extron Control Professional, please visit: www.extron.com/ecppr