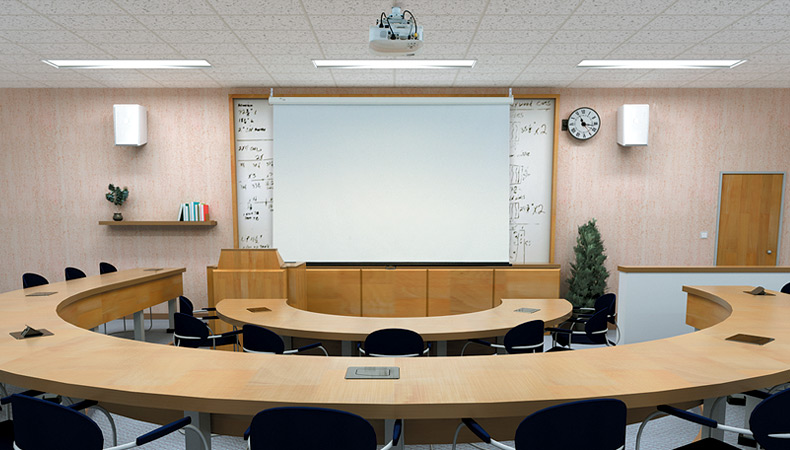 Enterprise Broadcast
Overview
Educational institutions or corporations with large enterprise operations often have numerous media assets distributed among the AV systems in individual rooms. They may include DVD players, VCRs, PCs, and other source devices. Depending on the room and its application, these sources may only be used occasionally. An alternative to duplicating source devices throughout the facility is to consolidate them into a bank of media sources in a central AV control room, and stream them to the rooms as requested. These devices could then be utilized more efficiently when treated as a centrally managed asset.
Solution Needs Assessment
Staffing
The AV control room requires AV or IT staff to organize presentation materials, set up media sources to play them, and initiate streaming based on a schedule or user requests. They will also need to be on hand to monitor video streams and provide user support if needed.
Source Inputs
A bank of DVD players, VCRs, messaging PCs, digital signage media players, cable/satellite tuners, and other media devices, may be used in the AV control room.
Displays Near End
A dedicated PC in the AV control room will be used to display and monitor live streams. AV or IT staff can also monitor streams anywhere throughout the facility they can access the network.
Control System
Centralized AV system control is to be installed to enable user operation of the source devices in the AV control room to switch channels, start and stop DVD playback, etc., and control the streaming encoders.
Network
The facility LAN will be used to distribute media streams.
Displays Far End
Rooms in the facility will use a PC to decode the video streams. The PC will be interfaced to a projector that varies by location, but generally will be at 720p, SXGA+, or 1080p resolution.
Functional Requirements
Copyrighted material from cable, satellite, DVD, or other sources is subject to usage restrictions. AV or IT staff must manage the destinations in accordance with the subscription contract or copyright regulations.
Functional Requirements
Basic AV systems will be installed in the rooms with a projector, laptop hookup, and program audio playback. Exact system configuration will vary according to location.
System Design Solution
Streaming Encoders
An Extron SME 100 Streaming Media Encoder is interfaced to each source in the system. Source signal inputs may be S-video, standard or high definition component video, DVI, or RGB computer-video. For this application, the SME 100 is expected to deliver high resolution images when streaming, to ensure quality presentation of HD video and computer-video when projected on large screens.
Network
The enterprise LAN is to be focused on media delivery and the network backbone will be capable of supporting Gigabit Ethernet switching, which will allow it to accommodate the demands of distributing many simultaneous video streams throughout the facility. IT has agreed to dedicate well over 200 Mbps of total bandwidth for AV media needs. Each streamed video source is expected to consume up to 10 Mbps for HD resolutions, and during normal operation there will typically be 5 to 15 unicast streams concurrently in the system. The Gigabit LAN effectively will act as a large-scale video router between the sources and room AV systems.
Decoding
PCs in the AV control room and meeting rooms will connect to the video streams through a Web browser. IT will create a Web page with clickable links to each of the encoders.
Control
AV or IT staff will control the input sources using Extron TouchLink™ touch panels. TouchLink works in conjunction with the Extron IPCP 505 IP Link ® Control Processor for IR control of the sources, as well as Ethernet control of the SME 100 encoders. Staff will have the ability to manage control or playback of the input sources, selectively enable or disable user access to the streams by establishing user passwords, and recall presets for various levels of video encoding quality. Each room also has a basic control system including an Extron MLC 104 IP Plus MediaLink ® Controller for the projector, switcher, and sound system.