ATS&R and Extron Work Together to Design Innovative Classrooms With AV in Mind
Public relations contact:
Joe da Silva, Vice President of Marketing
Extron
E-mail: pr@extron.com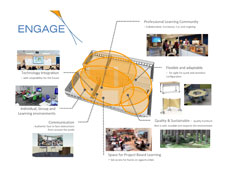 Anaheim, California (September 19, 2013) - Extron Electronics is pleased to announce they have teamed up with ATS&R Planners/Architects/Engineers to create, "ENGAGE The Innovative Classroom of Today" that will be on display at the CEFPI Annual Conference and Exposition in September. Several different environments were created to meet today's classroom requirements while maintaining flexibility to support versatile and scalable goals. Large Group offers the best of both worlds with pod seating for collaboration as well as centralized instruction for guided learning. Winner's Circle provides an informal "think tank" atmosphere for discussions, exploration, and creative problem solving. Breakout and Small Group creates quiet spaces for smaller groups to develop ideas and collaborate on their individual projects. Management demonstrates how to tie everything together with the network, including digital signage, streaming, bells and paging, and remote control for support and energy efficiency.
"The Innovative Classrooms of Today are one of the highlights of our annual conference," says Irene Nigaglioni, CEFPI International President. "They are a great example of how architects and manufacturers can work together to plan and design educational environments that foster collaboration and interaction between peers and teachers."
"We're demonstrating how technology, furniture, and minor remodeling can play a critical role in creating flexible learning
spaces," explains Paul Erickson, President of ATS&R. "Our cooperative design approach enables us to effectively integrate technology into innovative classrooms that fit all teaching and learning styles."
"This collaboration demonstrates how critical it is for architects to engage with AV manufacturers early and often in the design process," says Anthony Cortes, Director of Sales and Marketing, K-12 Classroom Systems for Extron. "The result is design and technology that seamlessly work together to enhance the student's experience, while avoiding embarrassing and costly retrofits."
There will be a variety of concepts on display that allow individuals to experience the classroom from the viewpoints of an instructor, student, and support staff. Although technology rich, the ENGAGE classroom reflects a budget-conscious design. Designers included all the necessary elements to create collaborative spaces that are achievable for both existing facilities and new construction. Focusing on classroom technology that easily integrates into lesson plans and adaptable furniture, the design proves that any classroom can be transformed into a collaborative learning environment. Experience the space for yourself and be "Engaged".
For details on the ENGAGE innovative classroom at the CEFPI Annual Conference, please visit: http://cefpirobustservices.org/websites/cefpi2013/index.php?p=102
For more information on Extron Electronics, please visit: www.extronclassroom.com
For more information on ATS&R, please visit: www.atsr.com