Extron NAV AVoIP System Stimulates Active Learning at Endicott College
Public relations contact:
Joe da Silva, Vice President of Marketing
Extron
E-mail: pr@extron.com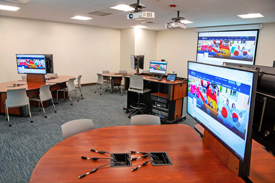 Anaheim, California (November 16, 2023) - When Endicott College wanted to identify the best technology to support active learning classrooms throughout campus, the AV staff selected the Team Building classroom as a pilot room for a proof of concept design. While its existing AV switching system was adequate, the intent for the new design was to streamline communication within the room and facilitate collaboration over the campus network. Endicott teamed with Integrated Multimedia Solutions, LLC. (IMS) to design and deploy Extron products, with the NAV AVoIP system facilitating the interactive learning environment. Each small group of students can connect their personal devices and use a local display. The system supports easy sharing within the local collaboration groups as well as the ability to share any source to all displays in the room.
"This was our first NAV system project but it won't be our last," says Bob Morin, AV System Design & Sales at Integrated Multimedia Solutions. "The installation and commissioning went perfectly smoothly and took place in record time."
The NAV system easily replicated all the functionality of the previous twisted pair AV matrix switching system, while providing enhanced scalability via LinkLicense. The selected LinkLicense upgrade enables the NAVigator system manager to support as many as 48 endpoints. For endpoints, the NAV encoder is installed with the switcher at each station and a NAV scaling decoder is mounted to the back of each display. The NAVigator provides secure, user‑friendly browser-based system management and also facilitates advanced system configuration and easy troubleshooting. Using Extron's GlobalViewer Enterprise software application to remotely monitor the pilot installation, the college support staff confirmed that the NAV system and other Extron AV products delivered all that was promised. The instructors and students are equally excited by what they are experiencing and accomplishing in Endicott's refreshed Team Building space.
To read the case study, click here.