Extron Announces New Management Additions for EMEA
Public relations contact:
Joe da Silva, Vice President of Marketing
Extron
E-mail: pr@extron.com
Anaheim, California (21 January 2008)
- Extron Electronics is pleased to announce the appointment of two new managers in its EMEA - Europe, Middle East, and Africa - office in Amsterdam. Elisabeth Do Lam, CTS, has been appointed Marketing Communications Manager, EMEA and Edgard Naim has been named Training Manager, EMEA.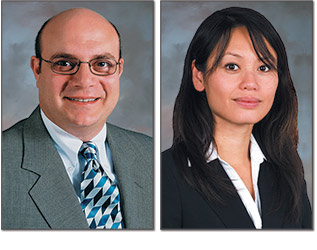 Click here to download high resolution image
"As we increase our marketing and training activities across Europe, the Middle East, and Africa, it is critical that we have experienced managers to oversee these efforts," says Rainer Stiehl, Vice President of Marketing for EMEA. "We are pleased to have the talents of Elisabeth and Edgard in these important roles."
As Marketing Communications Manager for EMEA, Elisabeth will be responsible for the marketing communications team and play a key role in the further development of Extron's marketing and public relations efforts in EMEA. She has an advanced degree in communications and more than seven years of AV industry experience, including four years as Extron's PR/Media Manager at the company's headquarters in Anaheim, CA.
Edgard will manage the EMEA training team and develop and implement training initiatives for EMEA. He has 16 years of experience in the professional AV industry, and previously served as Director of National Technical Services at Extron's headquarters in Anaheim.
Visit the press area of our Web site at www.extron.com/press for more information.