Extron Launches HDMI Wireless Product Line with eLink 100
Public relations contact:
Joe da Silva, Vice President of Marketing
Extron
E-mail: pr@extron.com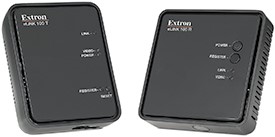 Anaheim, California (August 28, 2014) - Extron Electronics is pleased to introduce the eLink 100, a wireless extender that sends HDMI video and multi-channel audio signals up to 100 feet (30 meters). It is HDCP compliant, and supports computer video with resolutions to 1920x1080, including HDTV 1080p/60. Latency of less than one millisecond ensures high quality wireless operation with real-time performance. Use of the 5 GHz spectrum allows signals to pass easily through walls and other obstacles. To ensure connection stability in environments with multipath signals, the extender uses a robust multi-input and multi-output - MIMO communication technology with AES-128 encryption and actively monitors the RF spectrum for selection of the ideal transmission channels. Since these technologies do not require line-of-sight, the eLink 100 T transmitter and eLink 100 R receiver may be concealed or mounted in separate areas to maintain the aesthetics of the space.
"Launching our new line of wireless products, the eLink 100 is the ideal solution to extend HDMI signals without cable runs or building modifications," says Casey Hall, Vice President of Sales and Marketing for Extron. "AV designers and integrators now have a better way to extend signals in historic buildings and other spaces where hiding cables is problematic and cutting into walls and floors is simply not an option."
The eLink 100 features MIMO technology, which provides maximum throughput to enable pixel-for-pixel transmission of high resolution video with ultra-low latency. Automatic Frequency Selection – AFS, including Dynamic Frequency Selection – DFS, actively monitors the RF spectrum to identify and select an available channel, avoiding interference from other devices. For installations with multiple display devices, one transmitter can support multiple receivers, allowing an AV signal to be distributed to as many as four displays. These technologies and the compact size of the eLink 100 make it an effective means of wirelessly extending HDMI video with embedded audio in a wide variety of environments such as historic buildings, houses of worship, and other locations where running cable is a challenge.
To watch a product introduction video, please visit: www.extron.com/elink100video.
For more information about the eLink 100, please visit: www.extron.com/elink100pr.