Extron Announces the Promotions of Edgard Naim and Mitch Kenison
Public relations contact:
Joe da Silva, Vice President of Marketing
Extron
E-mail: pr@extron.com
Anaheim, California (October 25, 2005)
- Extron Electronics is pleased to announce the promotions of Edgard Naim, CTS-D, to Director of National Technical Services, and of Mitch Kenison to National Consultant Liaison Manager.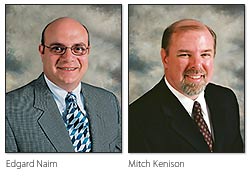 Click
here
to download the high resolution image
Edgard joined Extron last winter as National Technical Services Manager. In his new role, Edgard is responsible for all technical aspects of Extron's sales and support department. "In the short time he has been with Extron, Edgard has used his considerable experience and technical expertise to positively effect sales processes and technical support programs that impact our dealers," says Casey Hall, Extron vice president of sales for North America. Edgard has 14 years of experience in the professional audio and AV industries designing and engineering AV applications and facilities, including 3D stereoscopic visualization and virtual reality centers for the automotive industry. He also has developed the technology management process used to streamline activities and procedures within the AV industry, from testing and equipment evaluations to ISO certification and technical training. Mitch, formerly Western Regional Applications Engineer, joined Extron in 2004. In his new position, Mitch will oversee Extron's liaison relationships and training efforts in support of the company's national AV consultant accounts. "Mitch has similarly applied his broadcast system engineering, project management, and consulting skills on behalf of Extron Dealers in the Western United States," Hall notes. "Our national consultants will benefit from his individualized attention as well as the breadth of his knowledge gleaned from working with government, national Fortune 500, and international clients." Mitch has more than 17 years of experience in broadcast system engineering and management, 11 years of business operational management, and 13 years of AV systems consulting and project management. He has provided AV systems design and project management for local government, as well as regional commercial and national defense industries.