Extron Introduces eBUS Button Panels for Decorator-Style Wallplates
Public relations contact:
Joe da Silva, Vice President of Marketing
Extron
E-mail: pr@extron.com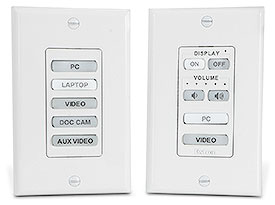 Anaheim, California (February 9, 2016) - Extron Electronics is pleased to introduce the EBP 105 D and EBP 106 D eBUS Button Panels for decorator-style wallplates. These button panels are fully-customizable AV system control interfaces for Extron eBUS-enabled control systems. They connect to an IPCP Pro control processor to perform a wide variety of AV system functions. Customizable, soft touch buttons are backlit for easy operation in low-light environments. Two eBUS ports are available for easy system expansion. eBUS button panels connect to the control processor and to each other using a single cable that carries both power and communication. The EBP 105 D and EBP 106 D mount in a single gang junction box, and include black and white decorator-style wallplates.
"The EBP 105 D and EBP 106 D broaden our eBUS family offerings and add convenience and functionality to your eBUS-enabled AV systems," says Casey Hall, Vice President of Sales and Marketing for Extron. "These decorator-style models feature simple pushbutton source control and easily blend in to a wide range of environments."
eBUS button panels connect using a unique digital bus architecture that allows for easy control system expansion, greater design options, and future upgrades. This also allows a single button panel to be used in a smaller system, or easily linked via a single cable to other button panels and touchpanels in more elaborate control system applications.
Since eBUS button panels have the same physical appearance as Extron's broad range of MediaLink controllers, they can be used alongside them throughout a facility while preserving a consistent look and user experience. The buttons on the EBP 105 D and EBP 106 D can be easily customized using the online Custom Button Builder application.
To watch a product introduction video, please visit: www.extron.com/ebusvideo
For more informaton on eBUS, please visit: www.extron.com/ebuspr