Extron HDCP-Compliant Matrix Switchers for Pro AV Integration Now Shipping
Public relations contact:
Joe da Silva, Vice President of Marketing
Extron
E-mail: pr@extron.com
Anaheim, California (December 21, 2010) - Extron Electronics is pleased to announce that the DXP HDMI Series and DXP DVI Pro Series matrix switchers are now shipping. These HDMI 1.3 compatible matrix switchers support HDTV 1080p/60 and PC resolutions up to 1920x1200. They are HDCP compliant, enabling simultaneous distribution of protected content to one or more HDCP-compliant displays. The switchers feature intelligent technologies that help integrators ensure reliable system operation and compatibility between digital devices including Key Minder™, HDCP Visual Confirmation, EDID Minder®, and Automatic Input Cable Equalization and Output Reclocking. Available in I/O sizes from 4x4 to 8x8, the DXP HDMI and DXP DVI Pro Series matrix switchers are ideal for use in applications that require reliable, high performance routing of HDMI and DVI signals between multiple sources and displays.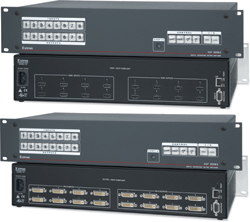 "The adage 'time is money' has never been more true than it is today for AV system integrators installing digital matrix switchers," says Casey Hall, Vice President of Sales and Marketing for Extron. "The DXP HDMI and DXP DVI Pro matrix switchers have been engineered to minimize installation and setup time on the job site, while delivering the high reliability and ease of operation designed into every Extron digital product."
To enhance and simplify integration, the DXP HDMI Series and the DXP DVI Pro Series feature two key Extron technologies: EDID Minder and Key Minder. EDID Minder automatically manages EDID communications for each input/output tie. By maintaining continuous EDID communication with all sources, EDID Minder ensures that sources power up properly and maintain their video outputs whether or not they are actively connected to the digital display devices through the matrix switcher's outputs. For digital signals with protected content, Key Minder continuously authenticates HDCP-compliant input and output devices to ensure quick and reliable switching in professional AV environments while enabling simultaneous distribution of a single source signal to one or more displays. If HDCP-encrypted content is routed to a non-HDCP compliant display, the switcher outputs a full-screen green signal, providing immediate visual confirmation that the protected content cannot be viewed on the selected display.
The matrix switchers also feature automatic cable equalization for all inputs and output reclocking for each output. This reduces the need for additional signal conditioning equipment by compensating for weak source signals or signal loss when using long input cable assemblies. Automatic output reclocking restores signal integrity for improved performance. Signals are reshaped and the timing is restored to allow for transmission over long cables. Additionally, all matrix switchers offer +5VDC, 250mA on the HDMI outputs for powering external peripheral devices.
The DXP HDMI Series and DXP DVI Pro Series are ideal for various commercial, medical, military and government, and residential environments where distribution of high resolution, digital video signals is needed, and a fully digital pathway is essential to maintain the highest possible image quality, from multiple sources to multiple displays.