Extron Introduces New 10 Input Scaling Presentation Switcher
Public relations contact:
Joe da Silva, Vice President of Marketing
Extron
E-mail: pr@extron.com
Anaheim, California (June 9, 2010) - Extron Electronics is pleased to introduce the DVS 510, a 10 input, multi-format Presentation Scaling Switcher that accepts and scales standard definition, HDTV, DVI, and RGB signals to a common, high resolution output rate. The DVS 510 is HDCP-compliant and features simultaneous DVI and two analog RGB/YUV outputs. It is a true presentation switcher for professional environments, with audio switching for all video input sources, an available 50 watt stereo integrated amplifier, picture-in-picture, and glitch-free switching. The DVS 510 also offers flexible control options including front panel control, IP Link® Ethernet, RS-232, and IR.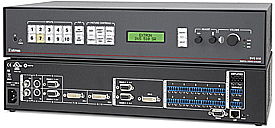 "The DVS 510 is ideal for larger presentation environments where several AV source devices need to be integrated, including HDCP-relevant products such as Blu-ray Disc players and cable or satellite receivers," says Casey Hall, Vice President of Sales and Marketing for Extron. "It delivers high performance video and graphics processing, plus all the essential features for streamlining integration and delivering professional-quality AV presentations."
The DVS 510 features a high performance 30-bit scaling engine with the ability to scale standard definition video, HDTV, and RGB signals up or down in resolution. It accepts computer-video signals up to 1920x1200 and HDTV 1080p/60, and outputs DVI and analog RGB or component video at 81 selectable output rates from 640x480 to 1920x1200 resolution, as well as HDTV up to 1080p/60.
The DVS 510 is available with two audio output variations, including the standard DVS 510 with fixed and variable line level outputs, and the DVS 510 SA, which adds a stereo integrated amplifier with 25 watts rms output per channel into 4 or 8 ohms. The DVS 510 SA features an Extron exclusive, highly efficient, advanced Class D amplifier design with patented CDRS™ - Class D Ripple Suppression technology that provides a smooth, clean audio waveform and an improvement in signal fidelity over conventional Class D amplifier designs.
For more effective, professional presentations, the DVS 510 includes glitch-free switching between video and high resolution inputs with selectable cut or fade to black transitions. The DVS 510 also features a PIP picture-in-picture mode that allows a video source and a high resolution source to be shown on one display. Several PIP presets are available, including side-by-side windows, and the PIP window can be dynamically sized and positioned anywhere in the image.