Extron Expands DVI/HDMI Product Line with New Decorator-Style DVI and HDMI Extenders
Public relations contact:
Joe da Silva, Vice President of Marketing
Extron
E-mail: pr@extron.com
Anaheim, California (June 19, 2007)
- Extron Electronics is pleased to introduce the
DVI 201 A D
and
HDMI 201 A D
, decorator-style transmitter and receiver sets that enable DVI or HDMI signals to be carried over significantly greater distances than can be accomplished using standard DVI and HDMI cables. In addition, they can accept and transmit stereo audio and RS-232 signals. Linked together using two economical and integration friendly CAT 5 type cables, the transmitter and receiver work together to send single link DVI-D or HDMI signals over 200 feet (60 meters) for HDTV and XGA (1024x768).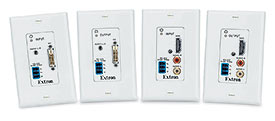 DVI 201 A D & HDMI 201 A D
Click here to download high resolution image
"The DVI 201 A D and HDMI 201 A D offer integrators the opportunity to incorporate DVI and HDMI signals into new and existing installations using low-cost twisted pair cabling," says Lee Dodson, Vice President of Marketing for Extron. "In addition to high performance DVI and HDMI transmission, they offer several features specifically for the system integrator, as well as an aesthetically pleasing, decorator-style enclosure."
The DVI 201 A D and HDMI 201 A D send DVI and HDMI signals up to 1920x1080 and HDTV 1080p. They are both HDCP compliant, supporting the long distance transmission of signals with HDCP copy protection. With the appropriate adapters from Extron, the DVI 201 A D is fully compatible with HDMI.
For convenient, streamlined system integration, RS-232 signals from a third-party control system can be transmitted over the same cabling as the DVI or HDMI signals, for remote control of a projector or flat-panel display. Additionally, either the transmitter or receiver can be remotely powered over this cabling, so that external power is necessary for only one of the devices. The DVI 201 A D and HDMI 201 A D also support transmission of balanced or unbalanced stereo audio signals, when a separate audio cable is attached. The transmitter and receiver are available separately, and may be matched with the corresponding tabletop DVI 201 or HDMI 201 transmitter or receiver to suit the requirements of a specific application.
For pricing and availability, contact an Extron Customer Support Representative at 800.633.9876 (inside USA/Canada only).
Visit the press area of our Web site at www.extron.com/press for more information.