Extron Launches New DVI and HDMI Cable Equalizers
Public relations contact:
Joe da Silva, Vice President of Marketing
Extron
E-mail: pr@extron.com
Anaheim, California (June 19, 2007)
- Extron Electronics is pleased to introduce the
DVI 101
and
HDMI 101
, convenient, economical DVI and HDMI Cable Equalizers that make it possible to send single link DVI or HDMI signals over substantially greater distances than with unequalized DVI or HDMI cables. They attach to the end of a long DVI or HDMI cable run of up to 200 feet (60 meters), and automatically provide the necessary active equalization to ensure optimal image quality with HDTV 1080p and high resolution computer-video signals up to 1920x1200. The DVI 101 and HDMI 101 are ideal for various commercial or residential applications requiring permanent or temporary installation of long cable runs.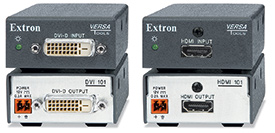 DVI 101 & HDMI 101
Click here to download high
resolution image
"The DVI 101 and HDMI 101 are quick and easy problem-solvers that assure original, high resolution image quality in situations where the distance between a DVI or HDMI source and the display requires a long cable run," says Lee Dodson, Vice President of Marketing for Extron.
The DVI 101 passes EDID information, and both the DVI 101 and HDMI 101 are HDCP compliant. With the appropriate adapters from Extron, the DVI 101 is fully compatible with HDMI signals. At shorter distances, both models can be self-powered by the source device via the cable. For easy placement and concealment, the DVI 101 and HDMI 101 are housed in compact 1" (2.5 cm) high, one-eighth rack width enclosures.
For pricing and availability, contact an Extron Customer Support Representative at 800.633.9876 (inside USA/Canada only).
Visit the press area of our Web site at www.extron.com/press for more information.