Extron's New DVI Fiber Optic Extender – Now Shipping
Public relations contact:
Joe da Silva, Vice President of Marketing
Extron
E-mail: pr@extron.com
Anaheim, California (October 21, 2008) - Extron Electronics is now shipping the DVI 104 Fiber Optic Extender, a transmitter and receiver set that extends single link DVI signals over four multimode fiber optic cables at lengths up to 500 meters (1,640 feet). It provides an effective, economical solution for extending DVI signals significantly beyond the specified 5 meter (15 foot) limitation for standard DVI cables. Engineered for reliability and exceptional high resolution image performance, the DVI 104 uses all digital, zero compression technology to deliver perfect pixel-for-pixel transmission of computer-video images up to 1920x1200 resolution, including HDTV 1080p/60.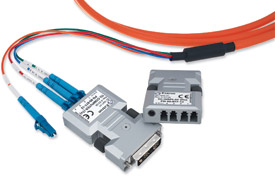 "The DVI 104 offers just what many integrators need: a cost-effective means to send DVI signals long distances," says Lee Dodson, Vice President of Marketing for Extron. "Since it uses standard fiber optic cables that detach from the transmitter and receiver, the DVI 104 is also easy to integrate."
The DVI 104 transmitter and receiver are housed in extremely compact DVI cable-type clamshell enclosures and connect to the fiber optic cables via industry standard LC-type connectors. The cables can be run through conduits and other tight spaces without the DVI 104 transmitter and receiver attached, simplifying installation. Pre-terminated multimode fiber optic cables are available from Extron in various lengths from 10 meters (33 feet) to 300 meters (984 feet).
The DVI 104 transmitter and receiver units connect directly to DVI sources and displays, so that no special mounting is necessary. To ensure a reliable DVI connection, the DVI 104 features EDID Minder®, which automatically manages EDID communication with the input source, so that the source powers up properly and reliably delivers content to the display.