Extron Opens Office in Dubai, United Arab Emirates
Public relations contact:
Joe da Silva, Vice President of Marketing
Extron
E-mail: pr@extron.com
Anaheim, California (18 February 2008)
- Extron Electronics is pleased to announce the opening of its Middle East office in Dubai, United Arab Emirates. This new 12,000 square foot office, located in Dubai's Airport Free Zone, offers the full range of Extron customer services, including customer support, sales support, repair, shipping, and customer training.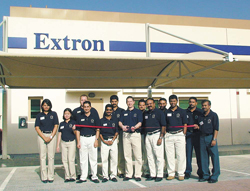 Click here to download high resolution image
"Our growing customer base in the Middle East can now work directly with our Dubai office," says Jerome Gueras, Extron Vice President of Sales, EMEA. "Opening a full-service facility in Dubai brings several distinct advantages, including quicker and more cost-efficient product delivery from the on-site product warehouse, and the convenience of Extron training programs offered in both Arabic and English."
Previously, this region was served by Extron's European headquarters in The Netherlands. Now, customers in the Middle East can benefit from the convenience of common business hours and the enhanced accessibility to Extron products and services. They can expect the same Extron Service, Support, and Solutions they have come to rely on from Extron, with the increased efficiencies made possible by local facilities.

The address of the new office is:
United Arab Emirates, Dubai
Dubai Airport Free Zone
F12, PO Box 293666
 
Tel: +971 4 2991800
Fax: +971 4 2991880