Extron Introduces New Four Input HDMI Switcher for 4K Video with Integrated DTP Transmitter
Public relations contact:
Joe da Silva, Vice President of Marketing
Extron
E-mail: pr@extron.com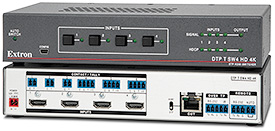 Anaheim, California (January 31, 2017) - Extron Electronics is pleased to introduce the DTP T SW4 HD 4K, a four-input switcher for sending HDMI and control signals over shielded CATx cable up to 330 feet (100 meters) to DTP-enabled products. It supports computer and video resolutions up to 4K. This HDCP-compliant switcher includes many integrator-friendly features, such as auto-input switching, selectable HDCP authorization, and HDBaseT compatibility. Convenient control options include front panel control, RS-232, and contact closure with tally output. It also supports simultaneous transmission of bidirectional RS-232 and IR signals for AV device control. Designed for DTP Systems, the DTP T SW4 HD 4K can be integrated with an Extron DTP CrossPoint presentation matrix switcher and other DTP-enabled products to support up to four HDMI sources at a remote location.
"We designed the DTP T SW4 HD 4K for versatility, with 4K switching capability combined with long distance signal transmission," says Casey Hall, Vice President of Sales and Marketing for Extron. "With a compact form factor and four HDMI inputs, it has the flexibility to be the central switcher for small AV systems, as well as being integrated into larger DTP-enabled systems."
The DTP T SW4 HD 4K features EDID Minder to simplify integration of devices and to help ensure optimal system performance by managing EDID communication between the display device and input sources, ensuring that the correct video formats are displayed reliably. User-selectable HDCP authorization allows individual inputs to appear HDCP compliant or non-HDCP compliant to the connected source, which is beneficial if the source automatically encrypts all content when connected to an HDCP-compliant device. Protected material is not passed in non-HDCP mode. The switcher also features an RS-232 port for easy integration with a control system. The advanced features and capabilities built into the DTP T SW4 HD 4K make it ideal for a wide variety of professional environments.
To watch a product introduction video, please visit: www.extron.com/dtptsw4hd4kvideo
For more information on the DTP T SW4 HD 4K, please visit: www.extron.com/dtptsw4hd4kpr