New Long Distance HDMI and DVI Extenders from Extron
Public relations contact:
Joe da Silva, Vice President of Marketing
Extron
E-mail: pr@extron.com
Anaheim, California (April 11, 2011) - Extron Electronics is pleased to introduce the DTP HDMI 301 and DTP DVI 301 twisted pair extenders for long distance transmission of HDMI or DVI plus bidirectional RS-232 and IR control signals over a single CAT 5-type cable. The transmitter and receiver sets are capable of extending 1080p/60 deep color and 1920x1200 up to 330 feet (100 meters). These features, combined with remote powering capabilities and compact enclosure sizes, make the DTP HDMI 301 and DTP DVI 301 ideal for providing cost effective means to extend digital video, multi-channel audio, and bidirectional control signals in space-challenged environments.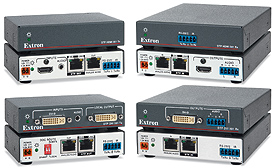 "The DTP HDMI 301 and DTP DVI 301 address our customers' needs for economical solutions that provide reliable, long distance transmission of HDMI and DVI video plus bidirectional control signals over one twisted pair cable," says Casey Hall, Vice President of Sales and Marketing for Extron. "These new, high performance extenders enable integrators to take advantage of the benefits of twisted pair over long distances while ensuring high signal quality and integrity."
The DTP HDMI 301 and DTP DVI 301 extenders support EDID and HDCP transmission, ensuring ongoing communication between the source and display. HDMI 1.3 compatibility enables support for 1080p/60 color depth, 3D formats, and 4K x 2K resolutions. The DVI transmitter is equipped with a buffered DVI loop-through to support connection of a local monitor. Both models support simultaneous transmission of bidirectional RS-232 and IR signals from a control system, providing remote control to source equipment or remote displays.
The compact DTP HDMI 301 and DTP DVI 301, housed in 1" (2.5 cm) high, quarter rack width metal enclosures, allow for discreet placement. Extenders can be used as point-to-point solutions or integrated within switching environments to extend inputs or outputs to remote locations. For added flexibility and convenience, separate analog stereo audio signals can be transmitted on a second twisted pair cable. Also, HDMI and DVI transmitters and receivers may be mixed and matched to suit installation requirements.