Extron Now Shipping DTP CrossPoint 86 4K Scaling Matrix Switcher
Public relations contact:
Joe da Silva, Vice President of Marketing
Extron
E-mail: pr@extron.com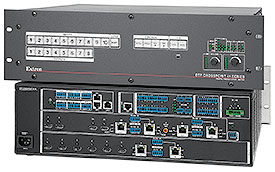 Anaheim, California (January 14, 2016) - Extron Electronics is pleased to announce the immediate availability of the DTP CrossPoint 86 4K, a presentation matrix switcher featuring an 8x6 I/O configuration. It is part of the DTP CrossPoint 4K Series, which provides 10x8, 8x6, 8x4, and 8x2 I/O sizes to suit a wide range of applications. This highly versatile series of products delivers all of the technologically advanced capabilities necessary to design and integrate an advanced AV system in one product. This includes a matrix switcher with 4K inputs and outputs, built-in 4K scalers powered by Extron Vector 4K scaling technology, seamless switching and logo insertion, integrated DTP and XTP signal extension, comprehensive audio DSP and AEC capabilities unmatched in the industry, a high performance mono or stereo amplifier, and an advanced control processor that is uniquely expandable. The DTP CrossPoint 4K Series greatly simplifies system design and installation, and dramatically reduces total cost of ownership.
"The availability of an additional matrix size in the DTP CrossPoint 4K Series gives integrators greater flexibility in choosing the I/O configuration that best suits each AV system," says Casey Hall, Vice President of Sales and Marketing for Extron. "The powerful capabilities and versatility of the DTP CrossPoint switchers streamline integration of essential AV system components for use in a wide range of environments."
The DTP CrossPoint 86 4K includes four built-in scalers, powered by Extron Vector 4K scaling technology, that are paired to the DTP outputs and enable independent scaling up to 4K. The exclusive Vector 4K scaling engine is specifically designed with best-in-class image upscaling and downscaling, and it embodies a new set of image processing algorithms that deliver uncompromising performance with 30-bit precision processing. The DTP twisted pair inputs and outputs provide extraordinary flexibility in distributing AV and control. They can be used to connect to any display with an HDBaseT input, or tie into a centralized, facility-wide XTP System to add local room-based AV systems. Customize any presentation using the professional source transition effects, or insert a custom logo into the foreground of the scaled output video.
The integrated professional-grade audio DSP technology is unparalleled in the AV industry, featuring all of the audio processing tools and capabilities of a fully equipped, professional outboard DSP such as the award-winning Extron DMP 128. DTP CrossPoint 86 4K models also include four independent channels of high performance AEC for conferencing applications, as well as a unique digital audio expansion port that links the internal DSP to a DMP 128 for expanded I/O capacity. Additionally, the built-in mono or stereo 100 watt amplifier features the same Extron core technologies found in the renowned ENERGY STAR® qualified XTRA Series, delivering high energy efficiency and professional grade audio performance.
DTP CrossPoint 86 4K IPCP models feature an integrated Extron IP Link Pro control processor, with the advanced features, processing power, and breakthrough technologies found in the standalone Extron IPCP Pro 350 control processor. This allows for complete, customizable control of an entire AV system. DTP CrossPoint 86 4K IPCP models with LinkLicense allow a tablet or laptop to serve as the primary control interface for the AV system.
To watch a product introduction video, please visit: www.extron.com/dtpcp4kvideo
For more information on the DTP CrossPoint 86 4K, please visit: www.extron.com/dtpcp864knspr