Extron DTP CrossPoint 4K Series Recognized with Best of Show Award at Prolight + Sound 2016
Public relations contact:
Joe da Silva, Vice President of Marketing
Extron
E-mail: pr@extron.com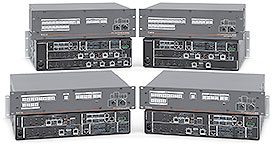 Anaheim, California (April 22, 2016) - Extron Electronics is proud to announce that the DTP CrossPoint 4K Series of scaling presentation matrix switchers was honored with one of only four Best of Show awards from Installation magazine at Prolight + Sound 2016. This award competition recognizes the most innovative and outstanding new products exhibited at the international tradeshow. Winners were selected by the Installation team based on several criteria, underscoring the many valued qualities of the DTP CrossPoint 4K, including ease of use, performance, versatility, and a rich feature set.
"We are very pleased that the DTP CrossPoint 4K Series has been recognized with this distinguished award," says Rainer Stiehl, Vice President of Marketing Europe, for Extron. "With the industry-leading capabilities to create fully integrated AV systems, and advanced technologies, these matrix switchers are the ideal choice for 4K presentation systems in countless applications."
The Extron DTP CrossPoint 4K Series delivers all of the technologically advanced capabilities required to design and integrate an AV system in one enclosure. The highly versatile matrix switchers are available in 10x8, 8x6, 8x4, and 8x2 sizes. They include 4K inputs and outputs, built-in Extron Vector 4K scaling technology, integrated DTP and XTP signal extension, comprehensive audio DSP capabilities with built-in AEC, an integrated audio power amplifier, and a built-in control processor for complete AV system control. The DTP CrossPoint 4K Series greatly simplifies system design and installation, and dramatically reduces total cost of ownership.
For more information on the DTP CrossPoint 4K Series, please visit: www.extron.com/dtpcp4kpr