Extron Announces Audio Embedding for Select DTP Transmitters
Public relations contact:
Joe da Silva, Vice President of Marketing
Extron
E-mail: pr@extron.com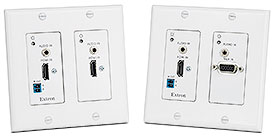 Anaheim, California (March 23, 2015) - Extron Electronics is pleased to announce that four DTP twisted pair transmitters now feature analog stereo audio embedding. These include the DTP T HWP 232 D and DTP T HWP 332 D two input decorator-style transmitters for HDMI, as well as the DTP T UWP 232 D and DTP T UWP 332 D two input decorator-style transmitters for HDMI and VGA. The added capability of embedding stereo analog audio onto the digital video output signal for transport over DTP streamlines integration by eliminating the need for a separate audio connection at the receiver. The transmitters support signal extension up to 230 feet (70 meters) or 330 feet (100 meters) over a shielded CATx cable. A free firmware upgrade allows you to take advantage of this new feature in existing DTP Systems deploying these transmitters.
"We are excited to be able to provide AV system designers and integrators with audio embedding support on these DTP transmitters," says Casey Hall, Vice President of Sales and Marketing for Extron. "It simplifies integration of AV equipment into existing DTP Systems while also providing more flexibility in new system designs."
The DTP Systems product family is the industry's most comprehensive integration platform for small to medium-sized AV systems. This family includes numerous different extender models in a wide variety of form factors and video formats, plus a broad offering of distribution amplifiers, switchers, and matrix switchers with essential AV signal processing and control features. DTP Systems allow complete flexibility in designing systems precisely to application and budget requirements.
For more information on the DTP T HWP D and DTP T UWP D Series, please visit: www.extron.com/dtpaudiopr