Pure 4K/60 4:4:4 Transmission.
Uncompressed. Zero Latency.
DTP3 Series
DTP3 is Extron's third generation, digital twisted pair solution. For maximum image quality and minimal latency, all video signals up to 18 Gbps are transported without compression. DTP3 incorporates advanced features such as 4K/60 @ 4:4:4, HDCP 2.3, and HDR video to let you create the sophisticated, yet simple to use systems that customers demand. All extend video, audio, and control up to 330 feet (100 meters) at every video resolution.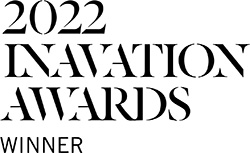 DTP3 T 202
4K/60 HDMI DTP3 Transmitter with Input Loop-Through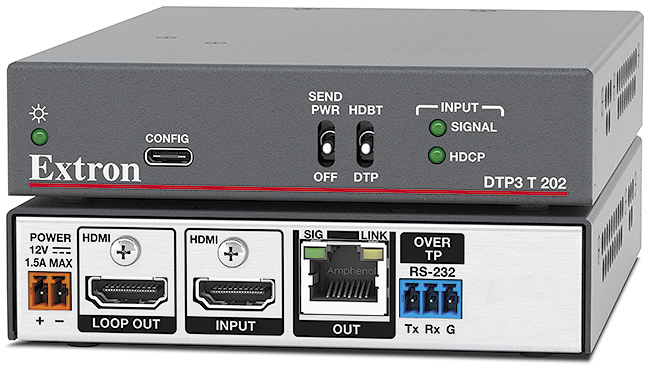 DTP3 R 201
4K/60 HDMI DTP3 Receiver with Audio De-Embedding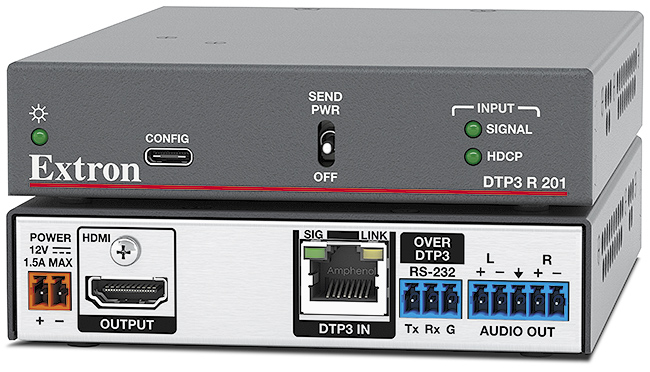 DTP3 Endpoint Features
Transmits video, bidirectional control, and analog audio up to 330 feet (100 meters) over a shielded CAT6A cable
DTP3 transmitters and receivers provide high reliability and maximum performance on an economical and easily installed cable infrastructure.
Supports computer and video resolutions up to 4K/60 @ 4:4:4
DTP3 endpoints support HDMI 2.0b specification features including data rates up to 18 Gbps and HDR video. Support of 4K/60 at 4:4:4 color sampling requires connection to a matching DTP3 product.
HDCP 2.3 compliant
Ensures display of content-protected 4K video media and interoperability with other HDCP‑compliant devices.